Jim S
GSM Services
Title:
Comfort & Energy Advisor
Hometown:
Louisville, KY
Before joining Dr. Energy Saver, Jim was a Landscape Contractor/Owner Service Unlimited that he owned and operated for 16 years in Boca Raton, FL. Owner operated JimCo Landscape 25 years in Louisville, KY.
Jim enjoys meeting with homeowners and helping them make their homes healthier and more energy efficient. Jim is a certified professional through the Building Performance Institute (BPI).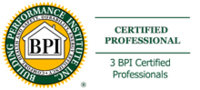 Jim's hobbies include camping, fishing and watersports.
Save