Humidity Control Solutions & Crawl Space Repair Solutions
Many homeowners consistently struggle with the amount of moisture that is in their home's crawl space. As for others, they may be choosing to avoid going into their crawl space all together, thus not realizing the damage that may be occurring over time.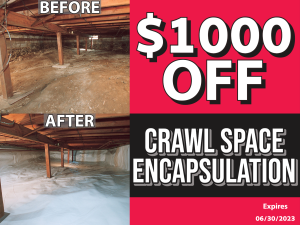 Unfortunately, the moisture from this space may slowly seep into the house, causing costly issues such as: floor deterioration, mold growth, musty odors, condensation on the windows and walls, and wet insulation. Moisture, though, may not be the only worry. Since the majority of residential crawl spaces are vented, this gives perfect access to other pests such as bugs, insects, and even termites. These issues are not without a solution!
We offer free home energy audits & free home crawl space inspections. We will check the humidity level, look for any growth, inspect your insulation and duct work, air leakage and more! We will take pictures of any concerns and offer a free, no obligation quote to offer solutions. We can provide you different solutions to create a healthy, comfortable, and safe environment under and inside your home. Schedule your Free Inspection today!
There are many solutions that we offer. Depending on the issues you are having at your home, we can offer solutions such as:
Whole Home Dehumidifiers: These systems reduce the humidity level throughout your entire home, not just a few rooms. This dramatically increases your comfort level and also greatly reduces the risk of moisture related issues to your home.
Crawl Space Encapsulations: A Crawl Space Encapsulation takes that dirty, damp area and transforms it into a clean, dry, healthy space. Involves sealing the entire crawl space, adding dehumidification systems, sealing & much more.
Vapor Barrier: A vapor barrier works by controlling and balancing the moisture inside the crawl space to create a semi-conditioned area that protects your foundation, your air quality, and your peace of mind.
Crawl Space Insulation: We offer a variety of insulation that cannot be damaged by moisture and will not degrade over time.
Crawl Space Cleaning & Air Sealing: A sealing system that closes off all vents in the crawl space. Sometimes includes sealing in all gaps and holes in flooring such as plumbing pipes, drains, electric lines etc.
Sump Pumps: A system that helps to reduce water and moisture in your crawl space by pumping any water or moisture out of that space.
Don't just fix the symptoms of your crawl space; resolve the overall issues! Improving your crawl space can increase your home's value and comfort. Call us now to schedule a comfort advisor to come out to do a free evaluation of what is going on to cause any moisture or crawl space issues and go over the solutions that will help you achieve the results you desire. Leave your comfort to us!
9 Signs you need your Crawl Space Inspected
Humidity – Many crawl spaces are incredibly humid and retain lots of moisture. This crawl space air naturally rises into the home and can cause issues to your homes structure, air quality, and overall comfort.
Condensation on Surfaces – If you notice moisture collecting on surface areas, floors, foundation, and joists, this can signal that the moisture level in the crawl space may be too high.
Sticking Doors – When humidity levels reach above normal, the excess moisture absorbs and expands the wood in your home. You may notice how interior doors will tighten in the frame and make it difficult to open or close properly.
Warped Flooring – Your floors are easily damaged by overly moist environments. The floors may warp, pop, crack, or seem uneven.
Hot/Cold Rooms or Cold Floors – Rooms that are not comfortable could be caused by a lack of insulation in the crawl space or from air leakage. Floors may be cold in the winter due to lack of insulation in the crawl, as well.
High Energy Bills – Do you have adequate insulation in your crawl? Is duct work torn under your crawl space? Your air conditioner could be working extra hard to keep the temps comfortable. These are just a few reasons how the crawl space may be the culprit for high energy bills.
Odor – Since air circulates from the crawl space, any rotten debris can cause a musty smell in your home.
Mold and Mildew – Damp areas that may be tucked away tend to offer good homes for mold and other forms of growth. Breathing any type of growth negatively effects the air quality in your home, thus influencing your health. Allergies, chronic coughing, difficulty breathing, and mild to severe headaches may occur!
Animals/Rodents – If you are hearing or smelling any animal presence, it may be that they have taken up residence in accessible crawl space points.
If you think your crawl space could be experiencing one or more of these issues, let us perform a free crawl space evaluation on your home! We will check the humidity level, look for any growth, inspect your insulation and duct work, and more! We will take pictures of any concerns and offer a free, no obligation quote to offer solutions. At GSM Services, we are your local crawl space experts!