Expert Furnace Repair Services
Your Reliable Partner for Quick and Affordable Furnace Repairs
If your furnace not working? We offer FREE diagnostic service calls with repairs! We will send a fully trained technician to your home for $69 to do a full evaluation on your heating system and diagnose any issues your furnace may be experiencing. If you are in need of repairs and allow GSM to complete the repair on site, we will waive the $69 diagnostic fee. GSM Services sets itself apart with superior customer service, reliability, and quality of work for over 97 years in Gaston, Mecklenburg, York, Cleveland & Lincoln Counties!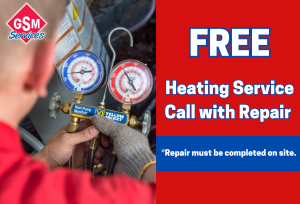 Here at GSM Services, we can evaluate your current heating system and provide a fast quote to get your furnace running and get your home warm and cozy again! We provide repair and maintenance services for oil, electric, gas, and propane furnaces.
Why Choose Us For Heating Repairs
Experienced Professionals: Our team consists of highly skilled, certified, licensed & insured HVAC technicians with years of experience in diagnosing and repairing all types of heating systems & furnaces. We've seen it all and can handle any furnace issue, big or small.
Prompt Service: We understand the urgency of a malfunctioning furnace. That's why we offer fast and responsive service. When you call us, expect a technician at your doorstep promptly to assess and fix the problem.
Transparent Pricing: No hidden fees or surprises! We provide upfront, transparent pricing so you know exactly what to expect. We believe in fair and competitive rates for our high-quality services.
Customer Satisfaction Guaranteed: Our commitment is to your satisfaction. We stand behind our work and offer a satisfaction guarantee. If you're not happy with our service, we'll make it right.
Free Furnace Service Calls with Repairs If you allow us to make the quoted heating repair, we will waive the $69 diagnostic service call fee.
How It Works
Contact Us: Fill out the form or give us a call to request service.
Diagnosis: Our technician will arrive promptly to diagnose the issue.
Repair: Once the problem is identified, we'll provide you with a quote and, with your approval, proceed with the repair.
Warm Home: Enjoy the warmth and comfort of your home again!
Furnace Repair Services
Diagnose Furnace Issues
Testing Furnace Safety
Furnace Cleaning
Thermostat Repair & Install
Furnace Filter Replacement
Furnace Pilot Light Issues
Heat Exchangers
Furnace Wiring Issues
Any Furnace Repairs
Repair All Heating System Makes & Models
Common furnace problems we solve
There are a variety of reasons why your home's heating system or furnace may not be performing like it should. Regular furnace tune ups & safety checks are important to prevent problems with your heating system, as well as to keep your home comfortable and your energy costs low.
During the heating season, a malfunctioning furnace can be a serious problem. Just because your furnace is functioning, does not mean that it is working correctly, efficiently, or even safely.
Furnace not working? Here are some of the most common reasons why your furnace wont work or wont turn on
Thermostat malfunction- An older thermostat can wear out or be damaged, which limits your control of the heating system. Upgrading to a programmable thermostat will solve this problem and also enable you to cut heating costs.
Mechanical issues- The fan motor, drive belt, and bearings in a typical furnace are all "wear" items. When these parts become worn, they must be replaced to avoid air flow problems or a total system shutdown.
Ignition issues- Most of today's furnaces have electronic ignition, so that the burner only turns on when the thermostat calls for heat. A clogged burner nozzle or faulty ignition will prevent the burner from working correctly.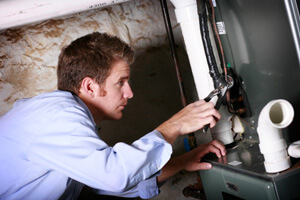 Safety & efficiency. Maintenance and repair work performed by an experienced technician will enable you to avoid furnace problems.
Cracked heat exchanger- This furnace component separates the combustion process from the indoor air supply. With age, a heat exchanger can crack, which causes safety and performance problems.
Improper venting- Any furnace that burns fuel requires an air supply for the combustion process, and a venting system to expel combustion gases. Your furnace technician will check for proper ventilation during regular service calls.
Outdated, inefficient performance- Today's high-efficiency, sealed combustion furnaces can operate at 90% efficiency or more. Older furnaces may only reach 75% or 80% efficiency, even in perfect condition. Upgrading to an efficient, ENERGY STAR® furnace is a smart option in many cases.
Leaky, uninsulated ductwork- AAlthough duct work is not part of the furnace, their condition has a large impact on overall heating system performance. By sealing and insulating the duct system, you can improve system efficiency by 20% or more.
Rely on us for your furnace repair needs
Call us or get an online quote for all your home heating needs. Although duct work is not part of the furnace, their condition has a large impact on overall heating system performance. By sealing and insulating the duct system, you can improve system efficiency by 20% or more.
We also offer a home energy audit to help identify the other areas in your home that may be contributing to discomfort and energy problems.