Your Local Insulation Company
We provide high-quality & affordable home insulation services in Charlotte, Gastonia, Belmont, Clover and all surrounding areas. As a full-service insulation company, GSM Services provides expert insulation services to improve areas such as adding insulation to attics, walls, crawl spaces, basements, floors, garages and more. We offer a variety of diffrent types of insulation such as cellulose, blown-in, radiant barrier, spray, and much more! If you are experiencing insulation issues, hot or cold rooms, high energy bills, let our company perform a free insulation inspection at your home! We will check the insulation levels, moisture levels, check for air leaks, inspect duct work, look for any growth, issues and more! We will take pictures of any concerns and give you a free, no obligation quote to offer solutions. At GSM Services, we are your local insulation company and provide top-notch customer service and quality!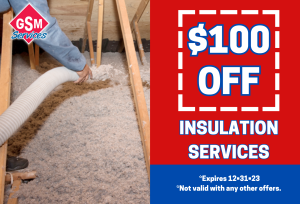 Benefits of Upgrading & Adding Insulation
Eco-friendly insulation options
Insulation options that prevents mold growth.
Energy efficient insulation that helps you save on power bills
Improves comfort by stabilizing temperature in cold or hot rooms.
Reduces the amount of dust and other pollutants in your home which inceases air quality.
Reduces your carbon footprint.
Signs You May Have Insulation Problems in Your Home & Need an Insulation Inspection:
Your HVAC system can't keep up.
You have drafty rooms, uncomfortable rooms, or hot rooms & cold rooms.
You have an older home.
Snow melts on your roof quickly or your roof ices up.
Pest Problems.
Cold floors or rooms.
How Does Insulation Work?
Heat spreads out to fill in where it has depleted. In the wintertime, heat moves naturally from inside to outside. During hot summer months, heat "wants" to go the opposite way, moving inside the house to make spaces uncomfortably hot. This process will cause your home to be uncomfortable, have uneven temperatures throughout the house, and increase your heating and cooling costs. However, installing proper insulation can help fix these home energy issues.