AC Repair & Service Experts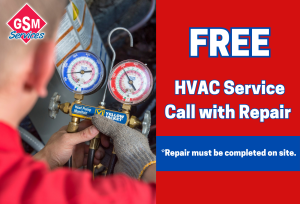 We offer FREE diagnostic service calls with repairs! We will send a highly trained, licenced and insured technician to your home for $69 to do a full evaluation on your AC system and diagnose any issues. If you are in need of repairs, and allow GSM to complete the repair on site, we will waive the $69 diagnostic fee!
Why Locals Choose Us For Their Air Conditioning Needs:
We Listen: Our customers know more about what comfort issues they are experiencing than we do. After we listen, we offer our expertise to solve their issues.
We Learn: We tran our technicians constantly and stay on top of the latest innovations & technology.
We Deliver: We solve problems through action.
Worry-free pricing: We always tell you the cost before we do the work.
We repair & service all heating system brands and models.
We warranty our repairs.
Quality Work - Customers know they can rely on us to get the work done to the highest standards.
Dependable/Reliable - We are responsive & reliable.
Customer Focused - Work at the customer's convenience.
Certified, highly trained, licensed and insured HVAC technicians.
Free estimates for heating system replacement & installation.
Need To Replace Your Air Conditioner?
We now have a AC Installation cost calculator that will give you a quote to replace the air conditioning system at your home. Answer some questions about your home and get a quote in less than 30 seconds!
Common air conditioner problems
Leaking refrigerant - The refrigerant in an air conditioner is meant to circulate in a sealed system that does not leak or consume the material. If your AC system is low on refrigerant, it is always better to find and fix the leak than to keep adding refrigerant.
Burned-out compressor motor - This motor is located in the outdoor module for your AC system. Have your system inspected if the motor begins to make a loud sound not typical to normal operation. Motor life can be shortened when other parts of the system are not properly maintained.
Blocked condensate drain - Your AC system doesn't just cool the air, it also removes humidity. When airborne moisture condenses in the air handler, the resulting water (condensate) should drain outside or to an interior drain line. If the condensate drain becomes blocked, this could result in water damage. In other cases, condensate drain blockage triggers an overflow switch that automatically shuts off the system. Cleaning and clearing the condensate drain should be a part of your system's regular service.
Blower issues - Located in the air handler, the blower simultaneously pushes conditioned air through supply ducts to your living space and pulls an equal volume of indoor air back (through return ducts) to be reconditioned. Common problems in this area include an unbalanced fan, a bad blower motor, or a faulty drive belt.
Inadequate maintenance - Dirty or clogged filters and coils will diminish the performance of your air conditioner and can eventually cause the compressor or fans to fail.
Choose A Qualified Air Conditioner Contractor To Perform Any Repairs
GSM Services has an experienced team of licensed and certified technicians to perform all repairs on your air conditioning system. Ignoring any problems with your system and not performing necessary air conditioning maintenance can cost you more money in the long run, shorten the lifespan of your cooling system, and can mean replacing your system sooner.
Don't ignore the signs of an air conditioning problem. Call us today at (704) 864-0344 or contact us online to get the air conditioning services you need to keep your home comfortable and your system running efficiently. We offer free estimates for ductless mini split heat pumps in Huntersville, Gastonia, Mount Holly, Fort Mill, Matthews, Denver, Charlotte and throughout the surrounding areas.