Repair your air duct problems for home comfort and energy savings
An air duct system that is properly cleaned, sealed, and insulated can achieve a more comfortable home, raise energy efficiency, and improve your indoor air quality. GSM Services has the equipment and training to accurately diagnose your ductwork problems and provide safe and effective duct repair, duct replacement, duct cleaning, duct sealing, and duct insulation services.
Contact us today to schedule your free on-site evaluation and estimate! We are your qualified professional for HVAC services in Charlotte, Belmont, Huntersville, Gastonia, Mount Holly, Fort Mill and surrounding areas.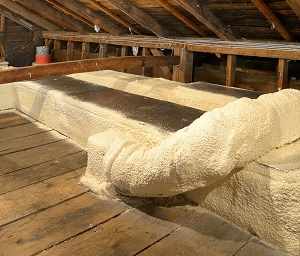 Duct sealing is a very important part of any effort to increase your home's energy efficiency.
Our Duct Repair Options
We offer a wide range of ductwork improvement services for your needs:
Duct Sealing: We perform air flow and leakage tests, seal air leaks and connections, and repair disconnected ducts to help improve the performance of your ductwork and heating and air conditioning system.
Duct Insulation: Adding insulation to your ducts in unconditioned spaces, like your attic or basement, can help improve your comfort and HVAC energy efficiency.
Duct Cleaning: If you have dust, dirt, or pet hair buildup inside your ducts, a thorough cleaning can remove debris and allergens to help improve your indoor air quality, increase HVAC system efficiency, and improve allergies.
Duct Repair: If you have torn or broken ductwork, this could be costing you money and affecting your comfort. At GSM Services we can repair your duct work issues.
Duct Replacement: If your duct system is old or inefficient, it may be time to replace the duct system. We will give you choices and provide the best solutions to help your duct system operate at peak efficiency.
Before performing work on ducts, we inspect the entirety of the system including the attic, basement and crawl space, and evaluate supply and return air balance. After making improvements, we test for leakage, air flow, and perform a combustion safety test.
Causes of your poor ductwork performance
Problems with your ductwork can make your energy costs higher and make it difficult to keep your whole home comfortable, no matter how much you adjust your thermostat. Here are some issues that could be behind your poorly performing ducts: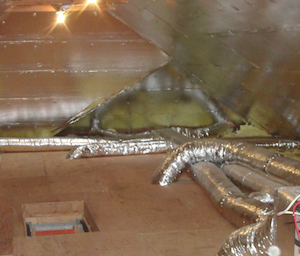 Heating and cooling ducts in an unconditioned attic can cause uneven temperatures inside your living space.
Get a free estimate for the duct repairs you need
Do you have an uncomfortable home during the winter or summer, rooms that don't heat or cool evenly, or high energy costs? GSM Services can help. We are the reliable experts in HVAC system repairs. We are able to identify ductwork problems and provide the most cost-effective solutions. Whether you need ducts sealed, insulated, or simply cleaned you can rely on GSM Services to get the job done quickly and efficiently. Contact us today to schedule your on-site ductwork evaluation and free repair estimate!