Furnace Tune-up, Cleaning & Safety Checks
Your heating and cooling system may very well be the most expensive equipment in your home. Unfortunately, most homeowners do not realize the maintenance needed for their furnace & air conditioning systems in order to prevent costly repairs and to ensure your HVAC is running at peak efficiency. Having a tune up service performed on your heating and AC system each season adds priceless benefits to you and your home.
Furnace Tune Up Special
We are currently offering $30 off our Furnace Tune-Up, Cleaning, & Safety Check. Our regular price is $128 but for a limited time, we are offering this heating tune up special for $98!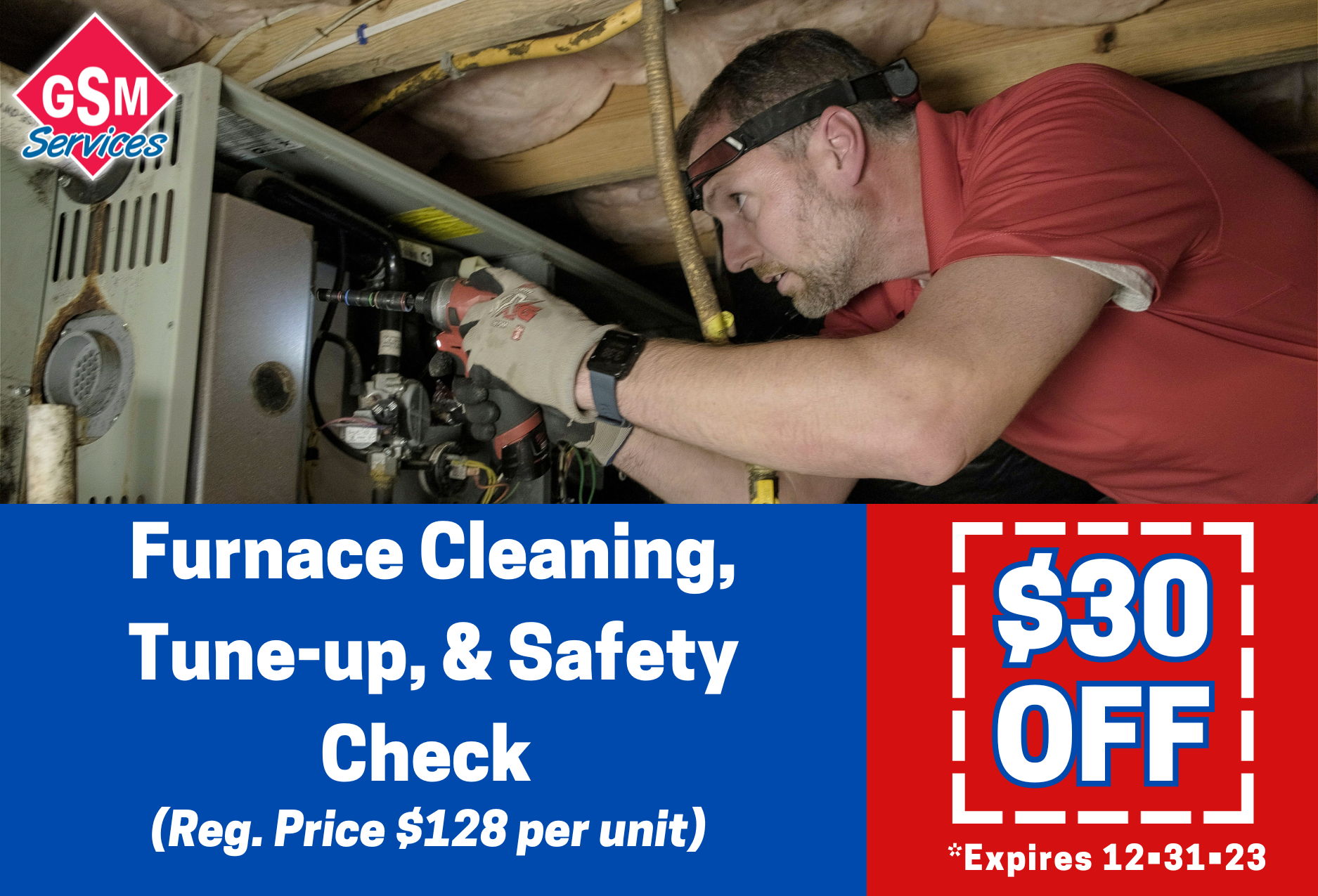 We Offer Maintenance & Service Many Types of Heating Systems:
Gas, Oil, Propane & Electric Furnace Services
Central Heating Services
Heating Furnace Tune Up & Service Benefits
Peace of Mind – A trained technician will check and confirm that your system is operating safely and efficiently.
Increased Energy & Savings – A trained technician will check and confirm that your system is operating safely and efficiently. If your furnace is not operating properly, it can cost you hundreds on your power bills.
Extended Equipment Lifespan – It is proven that HVAC systems last longer when regular maintenance is performed. The less strain your system receives, the longer it will function properly.
Optimal Home Comfort – Your comfort and satisfaction is our top priority. Maintaining your system will keep that comfort at the highest level! If you are enduring any comfort issues, you can discuss these with your technician at each visit to determine the best solution.
Warranties – Most manufacturers require proof that you have had your HVAC system maintained before they approve a warranty to work on your system. Keeping up with maintenance can prevent denial of any part or labor warranties.
Avoid Costly Repairs – Twice a year we will schedule a HVAC technician visit your home to perform a tune up on your system. This gives each homeowner the opportunity to catch any smaller issues with their system before they become the bigger and more expensive issues or repairs.
Improved Air Quality – During routine maintenance, all dirt and debris will be cleaned and discarded. This immensely improves your home's air quality.
What is a Furnace Tune Up?
Listed below is the complete checklist our trained HVAC Service Technicians use while performing a Heating System & Furnace Tune Up, Cleaning, & Safety Check.
Test and calibrate thermostat.
Supply and change filter (with a loyalty club membership).
Clean out debris and vacuum burner compartment.
Inspect plenums and ductwork for growth and air leakage.
Verify incoming gas pressure (if applicable).
Verify manifold gas pressure (if applicable).
Inspect hot surface ignitor.
Inspect flame rectification sensor.
Inspect control boards for burnt or damaged components.
Inspect all high voltage wiring for loose and/or burnt connections.
Inspect flue system for broken or rusted components.
Verify operation of replays and controls.
Verify proper outputs during defrost initiation and termination.
Test and verify safety limits function properly.
Test and verify correct operation of draft switches.
Measure ratings on all start assists.
Inspect blower wheel and motor for balance and debris buildup.
Test induced draft assemblies for proper operations.
Test main gas supply valves for proper and safe operation.
Monitor unit for extended run time to verify proper system start-up, run and shutdown.
Measure amps on all motors.
Measure amps on compressor (if applicable).
Inspect condition and evaporator coil.
Verify all supply temperatures are with in equipment limits.
Record all readings, temperatures, and pressures on tune-up sheet for customer review.
These steps ensure your heating system is safely running at its max potential. Keep yourself warm, safe and comfortable this winter. Schedule with one of our certified technicians today!