Home & Crawl Space Mold Remediation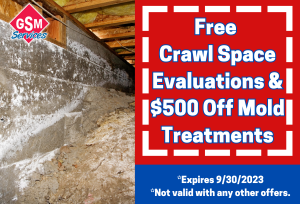 At GSM Services we provide a full range of products, services, and solutions to treat any form of growth, mildew or mold. We use various removal treatments to get rid of any mold and also fix the environment of the crawl space or home to ensure any type of growth is unable to form in the future.

If you have mold, mildew or growth in your crawl space or home, it is usually an indication of a moisture problem. It is important to treat and remove the mold, but it is equally important to fix the underlying cause of the mold growth or it will more than likley come right back. Each home throughout Charlotte, Gastonia, Belmont, Fort Mill, and all surrounding areas are different. Therefore, each treatment plan to remove the mold and ensure the it does not return will be different.
Home & Crawl Space Mold Removal in Charlotte, Gastonia & Nearby Cities.
Mold is especially prone to grow in a home's crawl space. If there are any water leakages, cracks, or areas for water to enter your crawl space (which most homes crawls have these openings) then there's a likely chance that mold will develop over time. In crawl spaces, moisture is typically higher due to the area not being properly conditioned. High moisture increases the humidity, and humid environments can be the perfect breeding ground for mold growth. Much of the air that we breathe in our homes can come from the crawl space, so it is important to make sure that your crawl space stays clean, dry, and healthy.
We have comfort advisors who are trained mold specialists. We offer Free Home Energy Audits which include Crawl Space & Attic Evaluations to homeowners in Gastonia, Shelby, Charlotte, Belmont, and other surrounding cities. During the evaluation, our comfort advisor will inspect the growth your home is experiencing, test the humidity and moisture levels in your home, crawl space & attic, check for air leaks, test the air quality, measure the air pressure and much more. We will offer solutions to fix any problems affecting your comfort, health, efficiency, and air quality inside your home.
Signs that your home may have a fungal, mildew, or mold growth problem can Include:
Visible fungus, growth, or mold spores anywhere under crawl space or inside home.

Musty Smell

Increased allergy flare ups or asthma attacks

Persistent Cough or consistent cold

You generally feel better when you are outside or away from home.

Black fuzzy spots or patches on corners, walls, air filters, floors, etc.

Dirty or gunk type build up in between tiles.

Warped or damp walls, flooring, or cabinets.

Fungus, growth type spots or build up on furniture or carpet.

Feeling like your home is humid. Feeling humid includes feeling "sticky", uncomfortable, hard to breathe, & feeling much hotter than the actual temperature.
We have many success stories from our customers throughout Gastonia, Lincolnton, Mounty Holly, Charlotte, and many other areas that we helped to feel healthier! Many of our customers report better breathing, improved comfort overall, allergies reducing and so much more! Now they can enjoy their home again!
Reach out today to schedule your FREE Home Energy Audit. We offer free evaluations and quotes at no cost or obligation to you.