Furnace Replacement & Installation Services
GSM Services is your local, reliable expert for air conditioning & heating system replacements and furnace installations. For over 97 years - we have served Gaston, Cleveland, Lincoln, Mecklenburg & Fort Mill areas! We're a licensed and insured HVAC contractor and we offer 100% satisfaction guarantee! When it comes to replacing a broken or inefficient AC, furnace or heating system, there is a wide variety of systems to choose from. Our expertly trained Comfort Advisors can help you determine the right heating system &/or cooling for your home. We provide worry-free pricing, great financing, and free no obligation estimates for heating system installations and furnace replacements. Get a FREE, Instant Quote on a new furnace or HVAC system for your home in 30 seconds. If you are not ready to replace your system, we also offer furnace repair services.
Heating System & Furnace Installation Cost
We now have a heating system & furnace installation cost calculator that will give you a quote to replace the air conditioner & heating system at your home. Answer some questions about your home and get a quote in less than 30 seconds!
Why Choose Us
Licensed and Insured
Fast & Affordable Service
Reliable Service
Locally Owned Since 1927
100% Satisfaction Guarantee
Great Financing
Great Warranty
Certified HVAC Technicians
We Install Many Types of Furnaces:
Gas Furnaces
Central Heating & Air
Oil Furnaces
Electric Furnaces
Propane Furnaces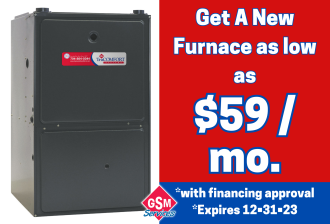 Benefits of Replacing your Heating System:
Lower Utility Bills
Higher Energy Efficiency
Less Noise
Improved Air Flow
Improved Air Quality
Warranty Coverage
System Reliablity
Improved Comfort
How Much Does a New Furnace Cost?
Most new furnaces will cost around $4,000 - $7,000. This range includes all the equipment, installation, permits, inspections, labor, electrical, basic accessories such as thermostat, etc.
The average to replace the entire HVAC system overall will be in the $8,000 - $12,000 range when including both heating AND air conditioning. Big factors include the size of the home, where is the actual equipment located (attic, crawlspace, mechanical room, etc.), how old the home is, and even what type of fuel the system uses. With additional upgraded options and accessories (see example list below), a system replacement could run as much as $20,000+. Call us now or click 'Get Quote Now" to get a FREE customized quote to replace the furnace or HVAC system at your home.
Potential HVAC System Enhancements & Accessories:
Higher Efficiency Model Air Conditioners
Higher Efficiency Model Heating Systems
Programmable Model Thermostats
Wi-Fi Enabled Thermostats
Air Purification Systems
Upgraded Filtering Systems
Humidification Systems
Dehumidification Systems
Extended Warranties
Annual Planned Maintenance
Duct Sealing/Insulating
Home Air Sealing/Insulation
Low-Level CO Monitors
Duct/Dryer Vent Cleaning
Complete New Ductwork
Fresh Air Ventilation
Crawlspace Improvements
Attic Improvements
Water/Humidity Sensors
Filter Delivery Service
Zoning Control Systems
Home/System Surge Protector
A Basic HVAC System Installation Generally Already Includes The Following:
Air Conditioner or Heat Pump
Refrigerant Piping
Furnace or Air Handler
Gas Piping (if fuel type heating)
Thermostat
Basic Duct Modifications
Base 1 Year Warranty
Base Manufacturer's Warranty
Permit/Local Jurisdiction/Inspection
Electrical Needed for System
Most basic system installations do not include the items listed under "system enhancements & accessories" but all of them can enhance the performance of the system and help maximize the comfort, energy efficiency, convenience, air quality and overall indoor environment within your home. This is why we like to have a comfort advisor come to your home to do a full evaluation and talk to you about your options, concerns and what is important to you. It is important to find a system that is in your budget and that also solves any comfort issues that you may have in your home. Schedule your FREE evaluation now & get a FREE, no obligation quote – you have nothing to lose!
Another issue that is not talked about often is the difference in contractors in the HVAC industry. This leads to questions that a consumer should ask to help them decide the type of provider they want to work with and what is most important to them. Ultimately, the contractor is the most important variable, not the brand or type of equipment purchased. What is most important to you? Warranty? How long the company has been in business? How many technicians do they have? Are they available after normal business hours and on weekends? What type of training and certifications do their technicians have? How many systems have they put in? Do you know anyone that has used them? How are their online reviews? Do they perform background checks and drug testing on their team members? Do they show up in uniforms in clearly marked vehicles? Are they involved in the local community? Are you comfortable with the office staff, technicians and sales people? Were they easy to get in touch with? Did they take the time to explain to you what they were doing and did they really look at the existing system and evaluate the home? Was the ductwork evaluated? What type of filtration or air purification system was discussed or reviewed? Do they have proper insurance and licenses? Are they getting a permit to perform the work? These questions could go on and on.
All these questions can be important when evaluating what is best for you personally and your home. We like to compare new systems to good recipes such as apple pie. Most of the time you hear that you want to compare apples to apples but in the contracting world, it's not that easy. A better comparison would be comparing apple pie to apple pie. Some of the ingredients may be the same but the finished product is most likely not the same. This is false when making a decision about having a new comfort system installed. Ultimately, the most important factor is your personal comfort level with the company that is going to install the new system. This is much more important than the brand or type system to be installed.
Important Things to know before you replace your HVAC System:
There is No Cookie Cutter Solution: Every situation is different when it comes to installing a new heating/cooling system. Each individual home needs a custom solution in order to maximize the return on your investment and help you be as comfortable and energy efficient as possible. Before your contractor provides you with an investment proposal, there are a few questions that should be considered.
Is the unit sized properly?
What is the best efficiency model for my application?
What is the best efficiency model for my application?
Is it better to repair it now and wait?
After these questions have been answered, then you can move on to the next step with a clear mind. There is no "one size fits all" solution to your heating/cooling comfort.
The Whole House Matters: Each part of your home affects the way your heating/cooling unit works. Some examples include: the duct system, envelope, attic, crawl space, and living space. The entirety of the home needs to be analyzed to choose the best solution for your new heating/cooling system.
Are the any areas where the home is leaking air?
Are there hot or cold spots?
Does the home need more insulation?
Are your energy bills excessively high?
A Whole Home Comfort & Energy Audit is required to see if any of the above problems are present. A blower door and smoke test, an infrared scan of the ductwork and home envelope are included in this evaluation. These results yield information that will help you make the most informed decision where home comfort, energy efficiency, and heating/cooling are concerned.
There are Always Choices: As a customer, many salesmen will tell you that there is only one solution that will work for your home. Did you know that there is no such thing as only one solution?
If you experience a similar situation, we suggest that you talk to someone else for a secondary analysis. In certain situations you may simply need an upgrade, a repair, or a tune up rather than replacing the unit. One of the most important questions you need to ask when going through this process is: What are we trying to accomplish? You always have a choice regarding your heating/cooling system.
Bigger is Not Better: In the HVAC industry, especially when it comes to a gas furnace, bigger is not better. In order to determine the correct capacity of the heating system needed for your home, an evaluation is vital. A heating system that is oversized will reduce your comfort, increase energy usage, and shorten the life of the system. In the long run, those aspects can cost you an unnecessary amount of extra money that could have been saved. A detailed procedure is required to determine the exact size system. This procedure includes the size of your house, where the unit is located, what condition the duct system is in, how old the home is, how many people live in the house, etc. If this analysis is not performed, then it is impossible to ensure that the heating/cooling system will be the correct size.
Efficiency Ratings: The main reason you use central heating/cooling is to stay comfortable in your home as the temperatures change throughout the year. Efficiency ratings of a heating/cooling system are an important way to help with this. Our industry spends a vast amount of time talking about equipment efficiency ratings. Every manufacturer has systems with high efficiency ratings. The duct system, the insulation within the home, and how leaky the house is can have a much bigger impact on the overall energy costs and comfort within your home. Proper system installation, proper air flow, and how the system is maintained has a greater impact on the system's life and the overall efficiency than the actual efficiency rating does. Individual pieces of a system are created in a factory, but these pieces are put together to form your system on site at your home, so the company chosen to install the system has a greater opportunity to positively or negatively affect how the heating/cooling system will operate.
Brand-X: Brands are not created equal, but does that mean that you have to overpay for a big manufacturer's marketing budget? Absolutely not. In today's industry, equipment is quality manufactured. Beware of getting "branded." A successful heating/cooling system installation depends more on who is doing the work and how they are doing it rather than the brand of equipment. On occasion, there could be a special application where one brand does have the advantage, but on standard equipment and efficiencies, there really is not much different between the different brands of equipment. You should be careful of those organizations and of the contractor that tells you their brand is the absolute "best".
Call a Professional: Finding the best company to install your new heating/cooling system can be frustrating. You could be put into a situation of never comparing the same "Apple Pie" vs "Apple Pie" proposal. It takes many ingredients to make a great apple pie, just like it takes many 'ingredients' to make a professional heating/cooling system installation. The first step should be a comprehensive inspection and evaluation of your home by a certified Home Comfort & Energy Advisor. This inspection should include items that will affect your comfort, energy efficiency, health and safety. These items are listed below:
Evaluation of your heating system and equipment
Measurements of your home
Evaluation of the air distribution center (the duct system)
Performing a load-calculation analysis
Inspection and evaluation of the insulation in the house
Inspection of the crawlspace (if applicable) and attic
Questionnaire survey about your personal concerns and goals related to the comfort and efficiency of your home
Your heating/cooling system is just one of the components in an intricate network that make up the entire "house-as-a-system." Every action or change has a reaction, and can sometimes lead to unintended consequences. Your home's performance is no different. Taking the time to do research upfront is an important factor to ensure you're making the smart investment into energy savings, and better comfort. If nothing else is considered within the house other than the heating equipment, the long-term energy efficiency and comfort of the home may not be maximized.
How to Finance: One of the most beneficial things about getting comfort and energy efficiency upgrades added to your home is that you can save money. If you feel that your heating bills are too high, upgrades such as a new unit, air sealing, insulation, and duct work can greatly reduce the amount of money you're sending to the utility companies each month. Homes where the energy usage decreases by as much as 60%-70% exist! This result may not be typical of every home, but we do guarantee a 20% reduction if all the recommended work is done after a Whole Home Energy Audit is performed.
An even greater perk of this type of work is that the overall comfort level in a home is almost always improved at the same time the energy usage is reduced. You're going to spend money either way, but the choice of whether you're going to send it to the utility company (and still have comfort problems) each month, or invest the money in improving your home, is yours. In some situations, we have found that customers have financed the work, and the monthly savings has completely or almost fully offset the monthly investment amount for the work.
Now What? Installing a new heating/cooling system in your home is a big investment, one that will affect your utility and comfort bills for years to come. If there are any oversights, you cannot just trade it in like you can with a car. You're stuck with it or left paying extra money to fix the situation. What if you're not happy with something? What routine maintenance needs to be performed? How do you obtain "warranty service" if needed? How will your service provider support you in the short and long term? When choosing someone to install this system in your home, make sure you have a true "Professional Service Company" and not a "fly-by-night installer" who disappears once the installation is complete. Schedule with us now to get a FREE Quote to replace your system.