Crawl Space Door Installations
At GSM Services we are the crawl space repair company that is trusted locally throughout Charlotte, Gastonia, Belmont, and surrounding areas. We are licensed and insured to complete crawl space door installations, encapsulations, and any other crawlspace upgrades or repairs! We have installed and replaced crawl space doors for many homeowners in our area.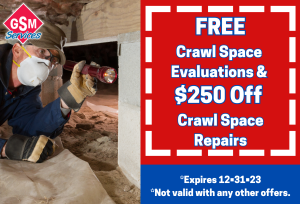 Here's How our Crawl Space Doors are Unique:
Custom Made for Your Home: Our crawl space doors are custom made in our fabrication shop and sized to perfectly fit your specific crawl space access opening.
Improve Home's Curb Appeal: We offer crawl space doors in a variety of colors so we can accommodate any aesthetic or preference.
Insulated Crawl Doors: This can help to better control the environment under your crawl space. This can significantly help and assists with humidity and moisture control when other crawl space improvements are done such as crawl space encapsulations, vapor barriers, dehumidifiers,crawl space insulation etc.
Durable & Will Last a Long Time: All our crawl space doors are made of galvalume metal and are insulated, which ensures durability and will last much longer than a standard crawl space door. The crawl space door trim is also made of the same metal. All our crawl doors include a 40-year paint and finish warranty.
Ease of Use: Our doors have a handle which prevents issues of the door jamming or getting stuck.
Improved Safety & Security: Our doors can come with a special locked access. Most crawl space doors have no lock and are easily accessible to animals, insects, & even humans.
There have been many tests and studies done that prove that the condition and air inside of your crawl space vastly affects the comfort, air quality, & efficiency of the environment inside your home in Charlotte, Gastonia, or any surrounding area. In the summer, warm humid air leaks into your crawl space which causes high moisture & humidity. This can cause mold growth, excessive dust in the home, musty smells, poor air quality & more. In the winter, cold air leaks in the crawl space which can cause cold floors and rooms. The cold air can also cool off the heated duct which creates higher power bills. To have a home that is comfortable, energy efficient, clean, free of mold, bugs, rot & odors, we must have a crawl space that is dry, clean, and free of air leaks. An airtight crawl space access door can sometimes help to assist in less air leakage, pests, insects, condensation, and water leakage.
If you need any crawl space repairs, need a new crawl space door, or need any type of crawl space work, give us a call for a FREE Crawl Space Evaluation & Quote!