We Provide AC Repairs, Air Conditioner Installations, Air Conditioning Service & Tune Ups For All Cooling Systems
GSM Services is Gastonia, Charlotte, Fort Mill, Lincolnton & all surrounding cities Air Conditioning experts. We offer AC repairs, Air Conditioner replacements & installations, maintenance & tune ups. We also offer service & installations for for AC ductless mini split systems. Our skilled technicians can diagnose your cooling system and provide you options to fix, replace or prolong the life of your HVAC system and keep your home comfortable.
We Offer These Heating & Air Conditioning & Home Service Call Specials:
Need To Replace Your Air Conditioner?
We now have a AC Installation cost calculator that will give you a quote to replace the air conditioning system at your home. Answer some questions about your home and get a quote in less than 30 seconds!
Why Locals Choose Us For Their Air Conditioning Needs:
We Listen: Our customers know more about what comfort issues they are experiencing than we do. After we listen, we offer our expertise to solve their problems.
We Learn: By listening to our customers and staying on top of the latest innovations, we can solve problems.
We Deliver: We solve problems through action.
Worry-free pricing: We always tell you the cost before we do the work.
We repair & service all heating & cooling system brands and models.
Knowledgeable/Competent: Problem solvers.
Quality Work: Customers know they can rely on us to get the work done to the highest standards.
Dependable/Reliable: We are responsive & reliable.
Customer Focused: Work at the customer's convenience.
Certified, highly trained, licensed and insured HVAC technicians.
Free estimates for heating system replacement & installation.
How Much Does a New Air Conditioner Cost?
Most new air conditioners or cooling systems will cost around $6,000 – $8,000. This range includes all the equipment, installation, permits, inspections, labor, electrical, basic accessories such as thermostat, etc. Major factors of the price include the size of the home, where is the actual equipment located (attic, crawlspace, mechanical room, etc.), how old the home is, and even what type of fuel the system uses.
The average to replace the entire HVAC system overall will be in the $8,000 - $12,000 range when including both air condition system AND heating system. With additional upgraded options and accessories (see example list below), a full heating & cooling system replacement could run as much as $20,000+. Use our new "HVAC System Calculator" by answering a few questions about your home and get a quote in less than 30 seconds!
Potential System Enhancements & Accessories:
Higher Efficiency Model Air Conditioners
Higher Efficiency Model Heating Systems
Programmable Model Thermostats
Wi-Fi Enabled Thermostats
Air Purification Systems
Upgraded Filtering Systems
Humidification Systems
Dehumidification Systems
Extended Warranties
Annual Planned Maintenance
Duct Sealing/Insulating
Home Air Sealing/Insulation
Low-Level CO Monitors
Duct/Dryer Vent Cleaning
Complete New Ductwork
Fresh Air Ventilation
Crawlspace Improvements
Attic Improvements
Water/Humidity Sensors
Filter Delivery Service
Zoning Control Systems
Home/System Surge Protector
A Basic System Installation typically includes the following items:
Air Conditioner or Heat Pump
Refrigerant Piping
Furnace or Air Handler
Gas Piping (if fuel type heating)
Thermostat
Basic Duct Modifications
Base 1 Year Warranty
Base Manufacturer's Warranty
Permit/Local Jurisdiction/Inspection
Electrical Needed for System
Most basic system installations do not include the items listed under "system enhancements & accessories" but all of them can enhance the performance of the system and help maximize the comfort, energy efficiency, convenience, air quality and overall indoor environment within your home. This is why we like to have a comfort advisor come to your home to do a full evaluation and talk to you about your options, concerns and what is important to you. It is important to find a system that is in your budget and that also solves any comfort issues that you may have in your home. Schedule your FREE evaluation now & get a FREE, no obligation quote – you have nothing to lose!
Another issue that is not talked about often is the difference in contractors in the HVAC industry. This leads to questions that a consumer should ask to help them decide the type of provider they want to work with and what is most important to them. Ultimately, the contractor is the most important variable, not the brand or type of equipment purchased. What is most important to you? Warranty? How long the company has been in business? How many technicians do they have? Are they available after normal business hours and on weekends? What type of training and certifications do their technicians have? How many systems have they put in? Do you know anyone that has used them? How are their online reviews? Do they perform background checks and drug testing on their team members? Do they show up in uniforms in clearly marked vehicles? Are they involved in the local community? Are you comfortable with the office staff, technicians and sales people? Were they easy to get in touch with? Did they take the time to explain to you what they were doing and did they really look at the existing system and evaluate the home? Was the ductwork evaluated? What type of filtration or air purification system was discussed or reviewed? Do they have proper insurance and licenses? Are they getting a permit to perform the work? These questions could go on and on.
All these questions can be important when evaluating what is best for you personally and your home. We like to compare new systems to good recipes such as apple pie. Most of the time you hear that you want to compare apples to apples but in the contracting world, it's not that easy. A better comparison would be comparing apple pie to apple pie. Some of the ingredients may be the same but the finished product is most likely not the same. This is false when making a decision about having a new comfort system installed. Ultimately, the most important factor is your personal comfort level with the company that is going to install the new system. This is much more important than the brand or type system to be installed.
---
Learn more about the air conditioning services we offer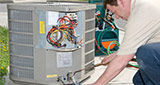 Air Conditioning Repair & Service
It's crucial to call a professional when you notice a problem with your cooling system. Delaying maintenance or repair can result in more expensive damages to your hvac system. From minor fixes, such as replacing a clogged filter, to major mechanical and safety repairs, you can count on our technicians for a thorough evaluation of your hvac system and quick, dependable service.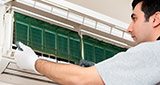 Air Conditioning Installation & Replacement
No matter what type of cooling system you have, it will eventually stop working and will need to be replaced. Replacing it can also save you money on your energy bill. When it comes to replacing a broken or inefficient system, there are different systems and types to choose from. Our comfort advisors can help you determine the right system for your home. We provide worry-free pricing and free, no obligation estimates for furnace installation and replacement.
---
We Install a Variety Of Types Of Cooling Systems:
Air Conditioners
Heat Pumps
Ductless Air Conditioners
Gas Package Units
Heat Pump Package Units
Homeowners Count On Us For Many Air Conditioning Services:
Air Conditioning Tune-Ups & Maintenance
Air Conditioning Repair
Air Conditioning System Replacement & Install
Refrigerant Replacement
Thermostat Repair & Replacement
Filter Replacement
Dehumidification Solutions
Humidification Solutions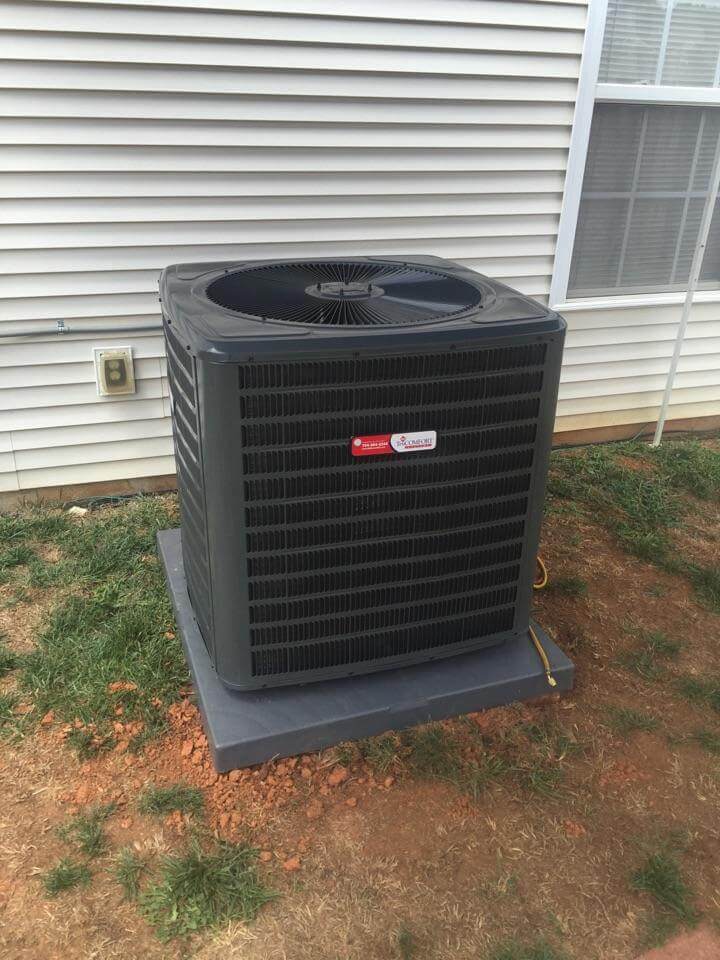 GSM Services TruComfort Air Conditioning Products

GSM Services was established in Gastonia, NC in 1927. They specialize in designing, engineering & installing complete comfort systems for businesses & homes.
TruComfort Signature Series Air Conditioner
GSM Services's TruComfort Signature Series air conditioner is engineered to serve our climate and maximize both efficiency and comfort. This line provides the highest efficiency with a low operating cost. It was designed for ultimate, quiet comfort and has the best warranties in the industry.
TruComfort Pro Series Air Conditioner
GMS's TruComfort Pro Series air conditioner provides high efficiency and a low operating cost. This line provides the ultimate in quiet comfort and exceptional warranties. This system has been designed to serve our climate and maximize both efficiency and comfort.