Ductless Mini Split HVAC Installers & Repair Experts
GSM Services is a top Ductless HVAC Contractor in NC & SC. We are the best place to buy and install your mini split system. Ductless HVAC options generally are more efficient, less expensive, quieter, heats and cools quickly, and offers more temperature control in each room. We are a licensed & insured ductless HVAC mini split installer & service company. We offer 100% satisfaction guarantee on all work. We service Charlotte, Huntersville, Gastonia, Fort Mill & all nearby cities in NC & SC. Are you curious how much a ductless mini split cost? Get an instant quote on installation of a ductless mini split system by using our mini split cost calculator (just choose "wall-mounted" when it ask where your system is located).
Benefits of a Ductless Mini Split Heat Pump?
Save Big Money; Many homeowners report saving up to 50% on their utility bills!
Increase Your Home Comfort. Mini split systems control the temperature in each room so it can achieve the desired comfort level much quicker and maintain it for longer.
A Mini Split System is Ultra Quiet. Perfect for the ultimate comfort in the master bedroom or baby's room.
Flexible in Design; Our team will design a plan to fix any uncomfortable areas in the home, rather it's an individual room, or the entire house.
You may qualify for rebates and incentives.
Enjoy the benefits of installing a mini split (ductless air conditioner & heating) in your home. You can quickly control the comfort and temperature in each individual room and split systems are known to stay ultra quiet while keeping you comfortable.
Thinking of getting a Mini Split Heat Pump System in Your Home? Our trained and certified ductless installation team will take care of three important factors. First, our team will make sure to match the right product to your needs. Second, we will ensure proper product placement in your home based on specs and your needs. Third, you can count on a professional installation. Most problems that homeowners have can be traced back to an improper installation.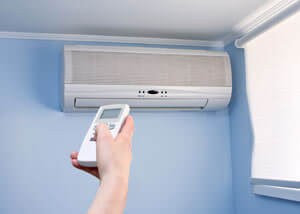 Control The Comfort In Each Room. A ductless mini split heat pump can be permanently installed on a wall or ceiling. This system provides the convenience and efficiency of central air conditioning without the ductwork system.

We're proud to be acknowledged by the Ductless Directory, an internationally acclaimed consumer resource for ductless systems and resources to help consumers hire the right ductless HVAC contractor. We were selected by this consumer resource due to our expertise and knowledge of Ductless Mini Split Systems.
Who should consider a Ductless Mini Split Heat Pump?
Anybody that needs to add air conditioning to their home. A ductless mini split system is a great option for homeowners who want the comfort and convenience of central air conditioning in a house or a room that doesn't have a ductwork system. Instead of having to add more ductwork and having to upgrade your current HVAC system to support the extra load (which can be very costly), it is often much easier and cost efficient to add a ductless mini split system. Ductless mini split systems are much more efficient than your standard air conditioning & heat pump systems. They do not lose conditioned air from leaky duct systems.
Older and historic homes do not have duct work.
Homeowners with hot or cold rooms.
Homes where someone has allergies or asthma in the home.
Remodeling projects and home additions such as a garage, sunroom, or a new addition built onto the house.
Certified Mitsubishi Mini Split Installer & Dealer
We are an authorized Mitsubishi Mini Split dealer and contractor. The Mitsubishi Mini Split can help you save money, save energy, and increase your home comfort. What is so great about a Mitsubishi Mini Split is that it is flexible in design, so that you can heat and cool one room, one area, or the entire house. Mitsubishi ductless systems are reliable and budget friendly. As a top Mitsubishi dealer, you can expect professional advice & service from a contractor who cares. Although we are a certified Mitsubishi dealer, we can repair or install any brand of ductless HVAC systems.
How Does a Mini Split System Work?
Unlike a conventional forced-air system that relies on a network of ducts and a large, centrally located air conditioner, a ductless mini split system includes smaller units that are permanently mounted on the wall or ceiling. Each air handler is supplied with electricity, a refrigerant line connected to an outdoor compressor, and a condensate drain line.
The unit typically has remote as well as console controls and blows conditioned air into the room. Depending on its size, a single exterior compressor unit can supply one or more room-size air handlers, and each air handler can be controlled independently.
Most mini-split systems are designed to allow for heating & cooling.
Get a Free, Instant Quote on the Cost of a Mini Split Installation
Just about anyone can benefit from a Ductless Mini Split Heat Pump. Get a free instant ballpark quote on a mini split installation now. Then, you can schedule a free consultation and one of our mini split experts will do a thorough evaluation of your home to find the best solutions for you. We are proud to be Gastonia & Charlotte Area's leading Ductless HVAC Contractor.