Certified, Licensed & Insured Home Generator Installers
Helping Homeowners stay safe & comfortable during power outages in Charlotte, Gastonia, Belmont, Mt. Holly, Clover, Fort Mill & All nearby cities.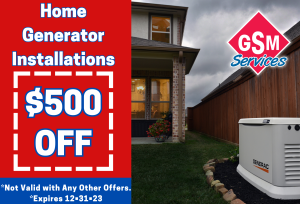 At GSM Services, we specialize in installing home automatic standby generators. We also offer home generator repairs, service & maintenance. When severe storms take down the power lines, a whole-home backup generator can provide continual power to the home. This means your homes heating & air conditioning, lights, refrigerators, appliances, and all other powered systems in your home will continue to work throughout the entire duration of the power outage. Our permanent and automatic generator solutions provide much better quality, durability, reliability, and protection than portable generators.
Extreme weather is something that can't be controlled or even completely predicted. Unfortunately, major storms frequently cause power outages that can last for days or longer in North & South Carolina. That's why more & more local homeowners are choosing to protect themselves from power outages by having a standby generator installed at their home.
When we install a standby generator at your home, you will have total peace of mind knowing that the generator will automatically turn on every time you need it without any hassle. Enjoy affordable backup power from a completely automated generator system. Call or text us now at 704-864-0344 or click below for and fill out our form to get a free estimate!
POWER OUTAGE? No Problem!
GSM Services has the solutions to ensure that you and your family stay safe, and comfortable in the event of a power outage.
We are your local experts for installing home standby generators in the Mecklenburg, Gaston, Lincoln, Cleveland & York Counties!
How An Automatic Standby Generator Works
If your home loses power, your home backup generator will automatically start up to provide your home continual power for the entire duration of the power outage.
The power is connected directly to your home's electrical panel. This means no extension cords or pesky wires.
No refueling necessary. It will run on your existing natural gas or LP fuel supply.
What will a home generator do for my home?
Having a generator in your home means more than just extra power during an outage. It means keeping your home running at the maximum efficiency, while also keeping you and your family safe and comfortable during outages. What do we mean, you may ask? We've outlined a few of the wonderful benefits for installing a generator!
Benefits of Installing an Automatic Generator:
You're protecting your indoor air quality. Your generator allows your heating and cooling system to continue running normally, which means no more opening windows and doors to combat stale air. Those frustrating allergens and pollutants stay outside of your home where they belong.
As mentioned previously, your heating system can remain on….no frozen pipes for you!
A generator protects all the items in your freezer and refrigerator. There will no longer be money wasted on spoiled food.
Many home medical devices rely on constant power. For some, having power during an outage can be crucial for their quality of life!
Some home insurance policies will provide a discount if you have, or decide to install a standby generator.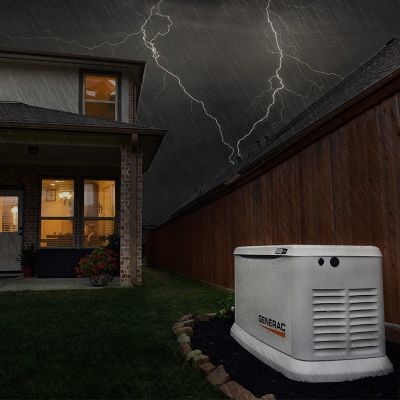 Certifided Generac Home Standby Generator Installers

We are an authorized Generac dealer and we specialize in residential generators. Our technicians are trained for service and repairs for Generac generators. Generac has nearly 60 years of experience providing home electrical solutions and backup generators. Generac was the first to engineer affordable home standby generators, and they remain the #1 name in home backup generators today.
Generac Home Backup Generators
Generac standby generators provide comfort, security and convenience. The permanently-installed generator sits outside just like a central air conditioning unit and delivers power directly to the home's electrical system, backing up your entire home or just the most essential items. We are certified Generac Generator Installers in the Charlotte, Gastonia, Fort Mill & all surrounding aeas.
Generac Benefits & Features:
Runs on existing natural gas or LP fuel supply.
Delivers power directly to your home's electrical panel.
Automatic startup within seconds of a power outage.
Affordable, 24/7 backup power source.
All-weather durability.
Digital controls with Mobile Link compatibility.
Multiple product lines to choose from: PowerPact, Synergy, EcoGen, Guardian Series, QuietSource Series, and Protector Series.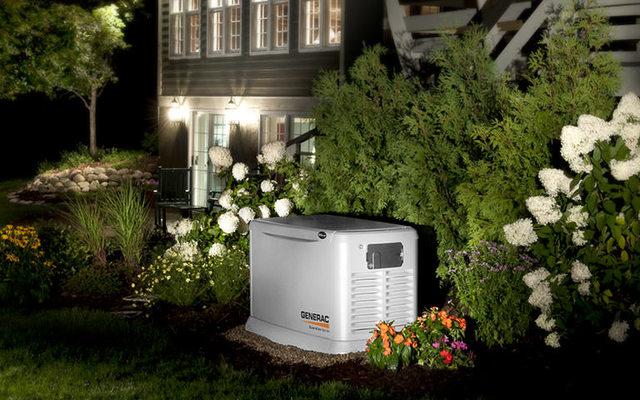 Why installing home standby generators are better than portable generators.
At GSM Services, we know that permanent standby generators are a significantly better option for homeowners than portable models. Portable generators can pose safety hazards if they are not not set up or operated correctly.
By contrast, a permanent standby generator is installed in a safe location and has built-in controls to ensure safe operation under all conditions. Natural gas and propane are the preferred fuels for permanent home generators. A standyby generator will automatically power on in the event of a power outage. We are trained and certified generator installers. Get a free quote today on installing a backup generator for your home.
Our home generator services
Free estimates for all home generator installations
Propane generators
Natural gas generators
Complete turnkey whole-house generator systems
GSM Services installs home generators that are designed to come on automatically when utility-supplied electricity is interrupted. Special circuitry is installed between the generator and your main electrical service panel can allocate standby electrical power to different circuits. This control circuitry ensures that key home systems (water heaters, HVAC system, refrigerator, etc.) can keep operating.
With a portable generator, you have to pick and choose what's worth turning on and for how long, and that only lasts until you run out of gas. Those problems will not be an issue with a permanent generator.
Enjoy comfort & Security During Power Outages
Severe weather is something that is unavoidable. It could be something as common as a thunderstorm taking out the power lines, or it could be something much more damaging. No matter what happens, be prepared for the next power outage with a new generator.
Call us today for a free estimate on permanent standby generator solutions! GSM Services provides generator services in Charlotte, Huntersville, Gastonia, Mount Holly, Fort Mill, Matthews, Denver, Lincolnton, Clover, and the neighboring areas in Greater Charlotte.