GSM Services is your one-stop-shop for heating system repairs, maintenance and installations.
As a homeowner, you deserve to feel comfortable. That means your heating & cooling system needs to be efficiently working for you day and night.
When something goes wrong or it's time to upgrade, most contractors are difficult to get in touch with, impossible to get on the schedule, and simply can't guide you to make the best decision.
Your comfort shouldn't be dependent on contractors who don't make you a priority.
At GSM Services, we've worked with thousands of homeowners and understand how frustrating it can be when you can't get someone to show up and solve your problem.
We've been taking care of our customers' comfort since 1927 with a team of experienced personnel, many with more than 30 years at GSM Services alone. This unmatched experience has led us to build reliable processes to serve you including immediate scheduling, consistent follow-through, and guidance to help you choose the right options for your home comfort, health. & efficiency needs.
Why NC Homeowners Choose Us:
We Listen: Our customers know more about what issues they are dealing with than we do.
We Learn: By listening to our customers and staying on top of the latest innovations, we can solve problems.
We Deliver: We solve problems through action.
Worry-free pricing: We always tell you the cost before we do the work.
We repair & service all heating system brands and models.
Knowledgeable/Competent - Problem solvers.
Quality Work - Customers know they can rely on us to get the work done to the highest standards.
Dependable/Reliable - We are responsive & reliable.
Customer Focused - Work at the customer's convenience.
Certified & trained HVAC technicians.
Free estimates for heating system replacement & installation.
---
Learn more about the heating solutions you need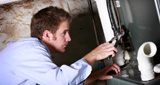 Furnace Repair
Rely on our experts to inspect your furnace and provide an up-front estimate for repairs.
---
Heating repair & service
It's crucial to call a professional when you notice a problem with your heating system. Delaying maintenance or repair can result in more expensive damages to your furnace. From minor fixes, such as replacing a clogged filter, to furnace cleaning, and major mechanical and safety repairs, you can count on our technicians for a thorough evaluation of your heating system and quick, dependable service.
Heating system installation & replacement
No matter what type of heating system you have, it will eventually stop working and will need to be replaced. Replacing it can also save you money on your energy bill. When it comes to replacing a broken or inefficient system, there are many heating systems and types to choose from. Our comfort advisors can help you determine the right system for your home. We provide worry-free pricing and free, no obligation estimates for furnace installation and replacement.
Service you can trust
Click Schedule Now to schedule your annual heating service appointment or get a no obligation estimate to replace your old heating system. We are the local trusted heating and cooling company serving local NC and SC areas.