Crawl Space Encapsulation Contractor in NC & SC
Welcome to GSM Services – Your Trusted Crawl Space Encapsulation Experts! Are you tired of dealing with a damp, musty, moldy, and energy-inefficient crawl space? It's time to take control of your home's health and energy efficiency by investing in crawl space encapsulation. At GSM Services, we specialize in providing top-notch crawl space encapsulation services that will not only improve the overall health of your home and air quality but also save you money on energy bills.
Our Crawl Space Encapsulation Installations:
✅ Use the highest quality material and technology.
✅ Offer mold & water resistant insulation materials.
✅ Mold resistant vapor barriers that restrict water.
✅ Eliminate mold & stop future growth.
✅ Improves air quality.
✅ Financing deals available.
✅ Best moisture & humidity control solutions available.
✅ Improves air quality.
✅ Results & Satisfaction Guarantee.
Is your crawl space wet, moldy, musty or damaged?
✅ We offer FREE Crawl Space Evaluations & Quotes.
What is a Crawl Space Encapsulation?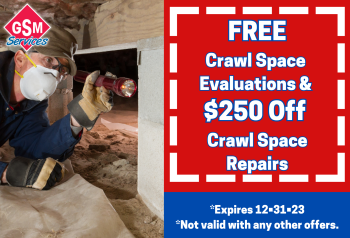 A Crawl Space Encapsulation takes that dirty, damp area and transforms it into a clean, dry, healthy space. Many homeowners consistently struggle with the amount of moisture that is in their home's crawl space. As for others, they may be choosing to avoid going into their crawl space all together, thus not realizing the damage that may be occurring over time.
Unfortunately, the moisture from this space may slowly seep into the house, causing costly issues such as: floor deterioration, mold growth, musty odors, condensation on the windows and walls, and wet insulation. Moisture, though, may not be the only worry. Since the majority of residential crawl spaces are vented, this gives perfect access to other pests such as bugs, insects, and even termites.
These issues are not without a solution! Many homeowners are choosing a more permanent fix: Crawl Space Encapsulation.
We offer free home energy audits & free home crawl space inspections. We will check the humidity level, look for any growth, inspect your insulation and duct work, air leakage and more! We will take pictures of any concerns and offer a free, no obligation quote to offer solutions. We can provide you different solutions to create a healthy, comfortable, and safe environment under your home. Schedule your Free Inspection today!
Crawl Space Encapsulation Pros & Benefits:
The air quality in your home will dramatically increase. Since the air from underneath your home can no longer find its way inside, you will no longer be breathing in the outside dust and allergens! Many of our customers have noticed a huge decrease in allergy flare ups.
Significantly lessen the opportunity for insects to enter the home. Insects can no longer crawl into the vents under the home! You will naturally be providing less access for them to crawl in those cracks and crevices from the crawl space to the floor. Not only are insects unpleasant, but a crawlspace encapsulation can also save you from a more serious pesky situation – termites.
Less moisture means less mold growth. By fixing the humidity levels in your home and underneath the crawl, you create an environment that mold and other spores simply cannot survive in. This will also help to provide odor elimination.
Increase your home's energy efficiency therefore lowering your energy bill. If there are air leaks in your crawl space, it could be costing you money on your utility bills. By encapsulating the crawl and sealing duct work, you could decrease the amount of money you are spending on your bills each month. If the air underneath your home is hot and humid, your air conditioner will have to work that much harder just to get the home to a temperature that is comfortable.
Improve your comfort. Did you know that around 40%-60% of the air that enters your home comes from your crawl space? An encapsulated crawlspace can help with fixing that clammy and damp feeling inside the home during the heat of the summer.
Increase your home value. Crawl Space Encapsulations are an investment! If you ever sell your home, this added feature will be attractive for buyers.
To learn more about how sealing or encapsulating your crawlspace can benefit you, your home, and your family, contact us today!
What is included in a Crawl Space Encapsulation?
A crawl space encapsulation includes lining the crawl space floors & walls with a thick material that prevents growth or moisture to seep through. It also involves sealing the foundation vents and doors so that excess moisture & polluted air cannot enter the crawl space. A dehumidifier is generally installed to control the moisture & environment under the crawl space, ensuring that mold and mildew cannot grow. It helps to provide an environment that termites and other pest cannot survive in. All gaps and holes that are located in your flooring (plumbing pipes, drains, electrical lines, etc.) are sealed. Installation of a proper drainage system can be necessary, such as a Sump Pump, to eliminate moisture. Sump pumps are installed to help to reduce water and moisture in your crawl space by pumping any water or moisture out of that space. Any groundwater that may be present gets collected before it has the chance to threaten your space! At GSM Services, we also offer a custom crawl space door for your home that is designed specifically to look good and help keep the environment under your crawl as energy efficient as possible.
During your crawl space evaluation, the crawl space specialist will go over what all would benefit your home and offer a custom solution based on your home's needs and your budget. Schedule your free crawl space inspection now!
10 Signs you need a Crawl Space Inspection
High Humidity
Condensation on Surfaces
Sticking Doors
Warped Flooring
Hot/Cold Rooms
Cold Floors
High Energy Bills
Odor or Musty Smells
Mold and Mildew
Animals/Rodents