Duct & Dryer Vent Cleaning
At GSM Services, we are the local experts for Dryer Vent Cleaning & HVAC Air Duct Cleaning Services. For our Dryer Vent cleanings, we use a special machine that is equipped specifically to clean dryer vents. We will clean the entire vent starting at the dryer machine all the way to the dryer vent exit that goes outside of the home. We will also inspect the entire duct to ensure there is no damage or holes that could cause any efficency or safety issues. We are licensed and insured and offer 100% satisfaction guarantee! Looking to have your air ducts cleaned? Check out our air duct cleaning services!
How Much Does Dryer Vent Cleaning Cost?
Dryer vent cleanings can cost anywhere from $139 to $269+. The price varies depending on where your dryer vent is located.
If your dryer vent exits on the first floor, we generally charge $139.
If the dryer vent exits on the second floor or above 6 feet, we generally charge $240.
If dryer vent is located on the 3rd story or exits through the rooftop, we generally charge $269.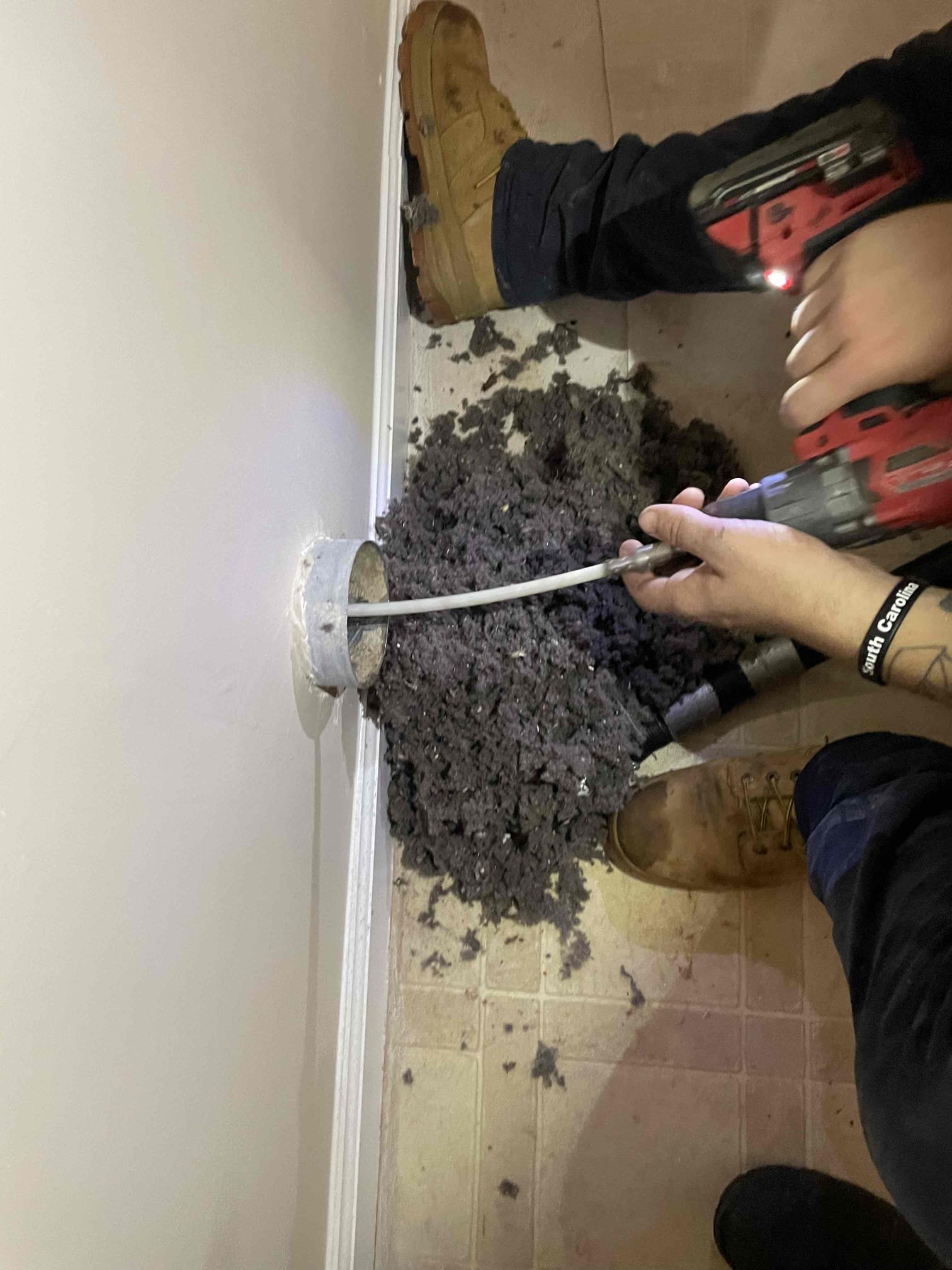 How Often Should You Clean your Dryer Vent?
Your dryer vent should be professionally inspected and cleaned at least once a year. There are two common indications that your vent may need an inspection or cleaning.
Your clothes may be taking longer than normal to dry. If two cycles are not enough to dry your clothes, then you may have a clogged or dirty dryer vent.
The laundry area feels overly hot when the dryer is running. If you are experiencing this, then that means the hot air is not properly escaping from the vent, also indicating a clog or dirty vent.
Why it is important to clean your dryer duct vents yearly.
Did you know that an estimated 14,000 to 15,000 house fires simply ignite from your dryer? According to the National Fire Protection Association, this is nothing less than the truth! To prevent your home from becoming another statistic, your dryer vent should be professionally inspected and cleaned at least once a year. Not only will this protect your property, but you will immediately notice an increase in efficiency from your dryer. After dryer ent cleaning services typically drying time for clothes will decrease.
Dryer Vent Replacement Services
How do you know if it is time to replace your dryer vent? If your dryer vent duct is damaged, old, or has tears in it, it may be time to replace your dryer vent.
We also offer dryer vent replacement, repair & installation services. Get a free quote today on replacing the dryer vent in your home.
Tips to Keep Your Dryer Vent Safe & Clean
Here are some tips you can follow daily to help ensure the safety of your home!
Clean your lint filter after EVERY cycle. This will help your clothes and towels dry faster.
If you spill anything on your clothes that may be considered flammable (oil, gas, etc.), make sure to hand wash the items and then hang them to dry.
Pick up any excess lint that has fallen around the dryer, especially near the vents.
GSM Services is proud to offer dryer vent cleaning services and dryer vent replacements. Call us today to get a FREE quote!