Gutter Guard Installation Experts
Say Goodbye to Clogged Gutters & Enjoy Maintenance Free Gutters!
Tired of cleaning your gutters? At GSM Services we are your experts for installing gutter guard systems. Here are some of the many benefits of installing a gutter guard system at your home:
It is innovatively designed to prevent leaves & debris from clogging your gutters.
Creatively constructed to prevent squirrels, birds, & insects from creating nests in your guttering system.
Our Gutter Guards require very little, if any, maintenance.
Our Gutter Guard system attaches to your guttering system, not your roof, this allows for added strength and protects your roofing system. This system has been proven to weather even the heaviest storms. In fact, they are designed to handle 14+ inches of rain per hour!
Gutter Guard's self-cleaning patented ribbed design allows for a slight breeze to blow off all dry debris off the gutter system.
Our Gutter Guards are made in the USA from 98% recycled aluminum which prevents warping and deterioration.
The system is invisible from the ground so it will not affect the look of your gutters, roof, or shingles. However, It will improve the look of your home when there are no leaves overflowing your guttering system.
If you would like to get a free quote on a gutter guard system, give us a call at 704-864-0344 or request an appointment online. We also install gutters, if you are interested in upgrading your entire gutter system. We offer a variety of colors & options for new gutters that include gutter guards. One of our highly trained gutter guard experts will access your concerns & guttering system and come up with the perfect custom gutter guard system for your home!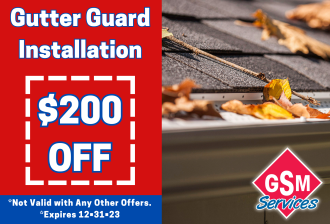 WHY CHOOSE US FOR GUTTER GUARD INSTALLATIONS
Licensed, Insured & Satisfaction Guarantee
Great Pricing & Reliable Service
Free Gutter Inspections
Free Gutter Guard Installation Quotes
Gutter Guard Warranty
Locally Owned Since 1927