Gutter Replacement & Installation Services in NC & SC
Protect Your Property and Boost Curb Appeal with Our Expert Gutter Solutions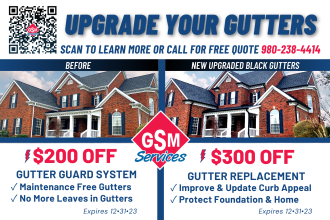 Upgrade your home with new gutters! New gutters can vastly improve the curb appeal as well as the protection of your home! At GSM Services, we offer many gutter replacement options such as different colors, styles, seamless gutters & other upgrades. Many new gutter installations add on Gutter Guards which help reduce, if not eliminate any future gutter cleaning maintenance. We are licensed and insured and have been in business for over 97 years. We are known for our top-notch customer service and standing by our work 100% of the time so you can have peace of mind. We have great pricing and financing deals available!
We offer FREE gutter inspections & quotes. Our guttering expert will come out to your home and do an inspection of your entire guttering system and will discuss any issues, concerns, or questions you have. They will go over our many options and give you a FREE, no obligation quote to repair or replace your old gutters with a new guttering system that is custom for your home. We have many financing options available to fit any budget!
Gutter Replacement, Install Service Experts in Gastonia, Charlotte, Fort Mill & All Nearby Cities.
At GSM, we are proud to offer many gutter options to our customers in NC & SC. Let's take a moment and look at some of the benefits of upgrading your gutters:
Many seamless gutter options are available. Unlike older gutter systems which came in pre-cut or sectional form, seamless gutters are custom cut to fit your home. This creates a "seamless" appearance instead of views of sectioned gutter pieces put together.
Upgrade curb appeal & look of your home.
Different innovative styles & material options are available based on your preference.
Change the color of your gutters & accent your home how you desire.
Ensure top protection of your home's structure with a new, innovative guttering system.
Add our Gutter Guard System and enjoy maintenance free gutters. Enjoy peace of mind knowing that you do not have to worry about build up in your gutters each season.
Enjoy peace of mind knowing that your gutters are new, operating at peak efficiency, and come with outstanding warranty!
Free Gutter Installation, Repair & Cleaning Quotes
Free Gutter Inspections
100% Customer Satisfaction Guarantee
Great Pricing & Reliable Service
Locally Owned Since 1927
Licensed and Insured
Seamless Gutter Installations
What are Seamless Gutters? Seamless gutters are created from a single piece of material, meaning they are not segmented and require no sealing to secure their bond. By not having your gutters pieced together in sections, seamless gutters are automatically considered longer lasting and more leak-resistant.
As an added protection to your new seamless gutters, we offer an installation option of a Leaf Guard System that uses GutterRx gutter guards. This gutter protection system works by reducing the risk of mold/mildew, debris, leaf build up, and pests or insects that may take up residence in your gutters.
Signs You May Need to Replace Gutters At Your Home:
Broken, Leaking, or Sagging Gutters – Your gutters should never be pulling away from your home. If they are, this may indicate that they are weighed down with water or debris.
Broken Fasteners – These are the pieces of metal that secure your gutter to the roof while also keeping it level. If this problem continues even after repairs, it may be time for replacement.
Cracks, Holes, or Tears – Small cracks may not seem like a big deal, but small ones can quickly turn into large cracks. These cracks, without the proper attention, can cause damage to your home's foundation.
Peeling Paint – The paint on your gutter is uniquely designed to endure standard wear and tear through the seasons. If you notice peeling or orange flecks, this can be a sign of rust.
Old Gutters – On average, most gutters need to be replaced every 20 years. Plus, there are so many new features & upgrades to enjoy!
Not only do we install new gutter systems for our customers, but we also remove and replace your old system! Replacing your gutters may seem tedious at first, but our expertly trained advisors and technicians are with you every step of the way to make the best choices for your home.
Getting ahead of these issues will prevent costly damages to your home, and give you peace of mind. At GSM, our mission is to care for your home's comfort, health, and safety.
Call or text us at 704-864-0344 or schedule online now for a free gutter inspection & quote.