Service agreements are a common sense investment that saves you money all year.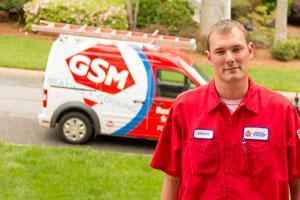 Service agreements benefit you in two major ways. First, the precision tune up will clear out much of the gunk and dirt responsible for making your system work extra hard. Secondly, they give a professional a chance to look over your units' components, making note of potential problems.
Here's a breakdown of how service agreements can benefit you in both the short-term and the long run:
Regular maintenance improves unit efficiency.
HVAC systems require tweaking at least once a year. The air conditioner should have a tune-up during the cooling season, and the heater should get a once over during the heating season. As part of these visits, old dust and grime is removed from various components, allowing your equipment to perform better while burning less fuel.
Because of these visits, you wind up spending less all season, but you get an additional perk. Because there's less resistance, there's also less wear and tear, and your equipment can go shorter times between needed repairs.
System checks allow you to fix problems before your unit breaks down.
This is perhaps the biggest benefit. The summer sun is going to put your unit through the wringer. If a heat wave hits, you'll be cranking the AC while you try to stay safe and comfortable inside. When the worst of it comes, your air conditioner may cave under pressure, and stop working entirely.
Preventative maintenance checks prevent that from happening. Instead, you can have your equipment gone over for potential issues once a season. If any repairs are needed, you can schedule them at times when the temperature isn't so high or at least at times when a lack of service won't be a burden.
Keep your equipment in tip-top shape by clicking here or calling (704) 864-0344 to enroll in one of the best service agreements available in the Gastonia area. Our friendly team at GSM Services is ready to help you with your HVAC needs today.