Learn these home energy tips to decrease your energy bills this summer.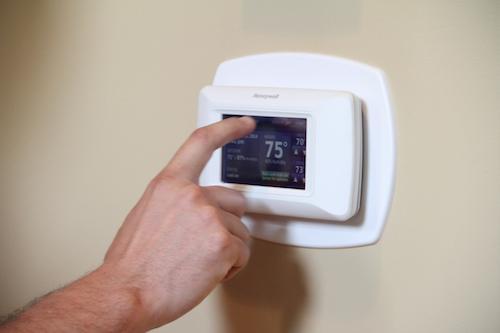 Whether you're away for a day or a year, you can keep home energy use low from anywhere you go. New advancements in heating and cooling take modern dependences into account. While programmable thermostats are a popular option, their features aren't used by very many people. In contrast, new Wi-Fi thermostats are easy to program, adjust or track using a computer or mobile device.
Here are three popular new options in Wi-Fi temperature control:
1. The Nest:
The original smart thermostat made major waves in the HVAC industry when it was first introduced. It's sleek, modern design and the seamless way it connected with mobile use was a game changer. Not only can it be controlled via Wi-Fi, but it was the first to employ predictive technology. Instead of waiting for a homeowner to adjust the temperature when they were headed home for work, for instance, the thermostat would do it in advance, based on established habits.
2. The Honeywell 9000:
This is Honeywell's baseline Wi-Fi thermostat for people who just want the ability to control their home temperatures on the go. It's incredibly easy to set up and program, improving the chances that homeowners will put it to use. It's a wonderful solution if your sole concern is keeping costs low while you're away but still coming home to a comfortable house.
3. The Honeywell Prestige IAQ:
On the other end of the spectrum, the Prestigeu2014while still very user-friendlyu2014takes the initial tech involved in Wi-Fi units and optimizes it for all the features an HVAC system can include. IAQ stands for u201cIndoor Air Qualityu201d and controls humidifying and dehumidifying indoor units as well as air filters and heating and cooling equipment. When fit with an Outdoor Weather Sensor, this unit can also take predictive actions and send alerts based on outdoor temps and humidity levels. This is a perfect choice for the Gastonia family with indoor air concerns they'll want to manage while they're away.
Click this link to contact GSM Services to take control of your home energy use today. Upgrading to a new thermostat is the perfect solution for conserving on costs while you're on vacation.