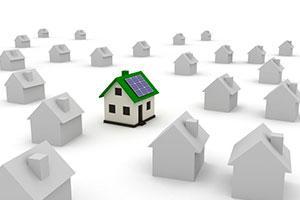 How will switching to green energy affect my bills?
Green energy encompasses many things, from using solar array panels or geothermal heat pumps to upgrading your home's HVAC to a high efficiency model. Even scheduling a home energy audit can help your home operate more efficiently. The methods you choose will depend largely on the impact you make and your budget. However, for those with big plans, you may be surprised to find a number of community grants and tax advantages capable of making them budget-friendly.
Look at a few of our more impressive green initiatives you can take at home to cut your energy usage, waste, and your monthly costs:
High efficiency heating and cooling systems last a long time and seriously shrink your monthly costs.
Over time, even the best HVAC system will wear down and become less and less efficient. There comes a point, where you'll decide that replacement is the less expensive option than continuing to call for repairs. It's important that you select an efficient replacement that is just the right capacity for your home. Too large or too small, and it could cost you.
GSM Services carries systems from the best in the business, and we know that we have exactly what your home needs. Our technicians will work with you to select and install a highly efficient system that will help you save from day one. Ask about our TruComfort Systems that were designed specifically for homeowners throughout the Carolinas. Built for our climate, these systems are perfect for chilly winters and hot, humid summers. Give us a call today to discuss financing programs available, and see how we can help you upgrade and save.
Solar power arrays can also use the sun's energy to effectively cool and heat your home.
The solar panel systems used in the 1970s were big, bulky, and not all that great. Today we've made impressive advancements in the industry, and pairing an energy efficient condenser with a compatible SunSourcexae Home Energy System can provide all of your heating and cooling services at very little monthly cost or energy usage.
These systems are also padded by public and private programs, and they come with backups in case the weather isn't cooperating. In other words, you won't be without AC if a day is cloudy.