Learn how poor indoor air quality affects your allergies.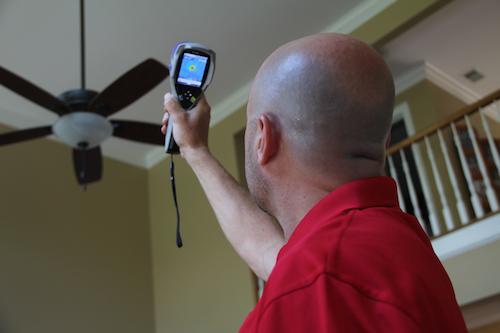 Poor indoor air quality has been linked to several health problems. In fact, the EPA claims that indoor pollution rates can be seven times higher than those found outdoors. The impact of stale air commingling with cleaners, grooming products, dander, and other contaminants can be terrible on the respiratory system, especially for someone who suffers from allergies.
How do you know if your indoor air is the problem?
People have a habit of brushing off warning signs, even when they're fairly obvious. They attribute a stuffy nose and watering eyes to a cold, or they ignore persistent headaches and flu-like symptoms that last all season long. Many times a persistent illness or allergy is really the result of poor indoor air quality.
Even overly dry air can be a problem. Dry air attacks the mucous membranes and makes the body susceptible to invasive contaminants and viruses. On the flipside, people living in homes where the air is too moist may wind up suffering from mold-related illnesses.
If you suspect you have poor air quality, a quick call to a trusted HVAC provider can be the first step to a long-term solution. Technicians can assess the quality of your indoor air, identify contaminants, and help you decide on the best methods for eradicating them from your home.
What can be done to improve indoor air quality?
Changing the types of furnace filters you use, sealing your ductwork, and investing in an air purification system can help to alleviate your health problems. Air sealing your home can keep leaks from driving up your bills, while fresh-air ventilation can also help solve any indoor air quality issues. You may find a humidifier, dehumidifier, or even weather stripping can have a positive impact too. A professional can help you decide exactly what steps you need to take to achieve healthier indoor air quality in your home.
It's clear to see how indoor air quality has a major impact on your health and well-being. Improve your indoor air quality and alleviate your allergies today by getting in touch with our indoor air quality pros at GSM Services.