Learn the benefits you can experience when you use green energy in your home.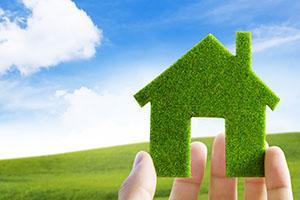 Green energy isn't a joke. Geothermal and solar home applications pack a punch, both in comfort and cost savings. These advancements are capable of saving homeowners a surprising amount of money. Are you willing to take the leap?
Here's what you can expect by incorporating geothermal green energy into your home:
Potential Monthly Savings
According to the US Department of Energy, switching to geothermal can save you 60 percent of your heating and cooling expenses. You can increase that savings by adding a compatible water heater or radiant flooring to your home's HVAC system. Because geothermal systems have a habit of lasting a long timeu2014estimated life is 25 yearsu2014you'll retain those savings month-after-month the entire time your unit is in service, making a geothermal system a stellar home investment.
Savings upon Installation
Thankfully, the US government realizes how essential green initiatives are to cutting back on energy use, the consumption of limited resources, and on the state of the environment. Geothermal systems receive massive amounts of special funding from green improvement loans with zero interest to tax credits and grants used to cover a unit's purchase. Most homeowners will find their new geothermal system is comparably priced to a traditional heating and cooling unit once all the factors are figured in.
Improved Home Value
Green improvements are popular, and they make an impact when it comes to home sales. Studies show a marked difference in prices for homes with solar or geothermal enhancements and their traditional counterparts.
Don't you think it's time you get the most from your heating and cooling system while doing your part to care for the environment? Contact GSM Services about installing your new green energy equipment today.