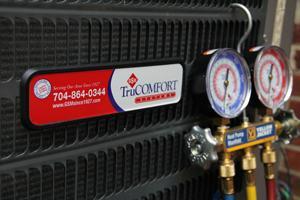 For the most part, you don't need to know much about the details of what's inside of your air conditioner. You've got local GSM Services service technicians nearby with years of experience, waiting to help you out when any part of your air conditioner fails.
However, knowing a little bit about how your air conditioner works can help you to save some money, helping you to use your air conditioner more efficiently and learn to recognize problems early on.
Refrigerant Shouldn't Leak from the System
Many people are under the impression that an air conditioner needs to be charged once every year or so. But this simply isn't true—or it shouldn't be.
Your air conditioner was designed to contain refrigerant. This chemical blend continuously evaporates and condenses as it is confined in a refrigerant line and run through a compressor and coils, and as it condenses, heat dissipates into the air. However, refrigerant is not supposed to dissipate, as this would be a rather large design flaw.
If refrigerant is leaking from your system, and your technician only wants to recharge it, ask some questions. Typically, you'll need to have the leak sealed.
Lowering the Temperature Doesn't Cool the Home Faster
You come home from work or after a long jog, and you immediately go to the thermostat and turn down the temperature several degrees—down to the 60°s, perhaps—in an attempt to cool off faster. Lowering the temperature too much only forces the system to work harder, and it brings the temperature down lower than you need. You end up paying more money for no good reason. Keeping the temperature steady is generally the better option.
Dirty Air Filters Can Damage Your AC System
Many people assume that the air filter is mostly in place to improve the air quality, but it also helps to protect their AC systems—if it's clean. When it's clean, the filter helps to stop particles from damaging the unit. When it's clogged, air cannot flow into the system so easily, and this can force the AC system to struggle and wear down very quickly.
Call GSM Services for AC service in Charlotte, NC, and leave the comfort to us.