How improving indoor air quality can help you get control of a mildew problem.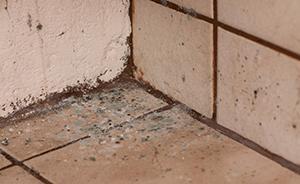 Mildew is not the same as mold, though they're similar elements that both affect your indoor air quality. Both grow in colors ranging from white to black, are associated with moisture damage and can contribute to serious health problems in people and in pets. However, mildew tends to be associated more with high humidity levels indoors and, therefore, is easier to prevent.
Is It Mildew or Is It Mold?
Mildew is generally lighter in color than mold, especially in the beginning stages of growth. It also has a tendency to grow in a flat pattern and is powdery. Mold often starts out as green or black fuzz. It can often be found growing on old food or other decomposing matter, though unfortunately it can sometimes also be found in basements or in other parts of a home.
Get Mildew under Control with Humidity Control
The first way of preventing mildew is through fixing and cleaning up any sources of leaks in the home. If there aren't any leaks, the next step involves the use of an indoor humidity-monitoring device. This can be a professional-grade humidifier or a dehumidifier, but it's essential that whether you choose a stand-alone or add-on unit, it should be capable of monitoring and adjusting your indoor moisture levels.
When properly maintaining between 50 and 60-percent humidity, the indoor air of your home will keep your skin, hair, eyes, and mucous membranes from becoming too dry. It will also prevent the propagation of water-friendly mildew and molds by preventing humidity from getting too high.
It's easy to improve your indoor air quality. Banish mold and mildew forever with the right HVAC device.
Contact the indoor air quality experts at GSM Services to discuss the latest products on the market designed to help you with humidity control.