How can you reduce residential heating waste and still stay warm this winter?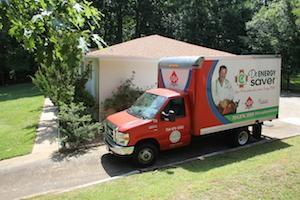 When it comes to residential heating, homeowners often think they need to sacrifice comfort to save on energy waste and utility expenses. GSM Services is here to help you save the planet one house at a time with methods for limiting emissions while staying warm. Learn how our HVAC systems affect the environment and what you can do to increase your comfort without increasing your carbon footprint.
Energy Hogs
Your HVAC equipment likely uses more electricity or gas in your home than anything else. Combined, they use nearly 650 million kwH of energy each year. Choosing a high-efficiency system like a new gas furnace can go a long way in cutting back, but even customers who've gone that extra mile can still take steps to maximize the use they get from their unit.
The EPA recommends two basic ways to lower your energy needs without suffering from the cold:
1. Tune-up Your System
As it operates throughout the year, your heating and cooling equipment accumulates dirt and dust, which may pile up to block airflow or cause more condensation than normal. Over the years, it's normal for parts to wear down as well. If ignored, these issues can lead to a system burning energy while underperforming. An affordable yearly tune-up will prevent major waste by catching issues before they grow.
2. Upgrade Your Thermostat
It used to be that programmable thermostats were the best investments environmentally conscious homeowners could make. Set in advance, they allow the temperature in your home to regulate gradually, tuned-in to the comfort levels you need. Times have changed, and technology has made tremendous leaps in comfort control, offering the ability to monitor and adjust your thermostat by computer or cell phone.
GSM Services is fully committed to cutting back on pollution and keeping your family warm. Check out the residential heating deals available this winter capable of helping you green-up your home.