What tips do commercial HVAC service pros use to lower bills fast?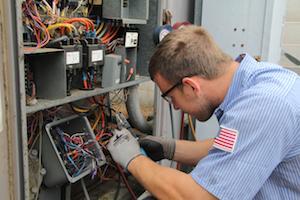 Commercial HVAC isn't just about creating a system that's big enough to handle the needs of businesses, not homeowners. In the last few decades, the focus has been on efficiency, efficiency, efficiency. From manufacturers to the people installing commercial HVAC equipment, the industry's focus has been turned to helping businesses get the most from every dollar that they invest in new heating and cooling systems. This change in focus means big benefits for you when it comes to your energy bills.
Unfortunately, a lot of business owners miss out on some major ways to increase the efficiency of their system, simply from a lack of knowledge. Yet all you'd have to do is ask a commercial HVAC service technician to find out some simple ways to increase your heating and cooling efficiency and save money.
Luckily, we know a few such technicians, and here are some of the simplest secrets they recommend you put to use:
1. Extend Your Equipment Life With Preventative Maintenance
A preventative maintenance plan is a smart way to stay on top of your HVAC equipment's needs. These plans are so much more than simply swapping out your air filters for you. They'll check for problems on your equipment, make small repairs to nip future problems in the bud, and make sure everything is running smoothly. Better yet, commercial plans are customized to match your business's system and needs. By investing in your system like this, you can extend the life of your system by several years, and as an additional benefit, you can prevent breakdowns from interrupting regular business hours.
2. Size Your Equipment Based on Need
Commercial HVAC installers have a keen eye for identifying the needs of your heating and cooling units. Instead of basing size on the size of your property, they take into consideration the desired use of your system and all of the factors working against it. This makes sure that you get the right system the first time. The biggest bonus? This method for sizing equipment can save you money in the long run and at the time of installation.
Heating and cooling make a major impact on your business's utility bills. By putting just a few of these tips in motion, you can take a significant bite out of your expenses.
Talk with the local pros, GSM Services, to help save money while fine-tuning your commercial HVAC service.