Are there really gaps in your heating and cooling systems?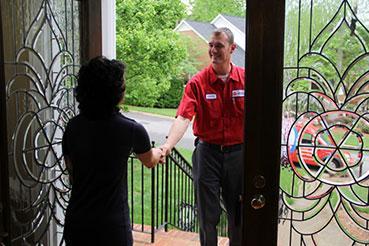 Your heating and cooling costs make up the majority of your monthly expenses. But what if you could lower those expenses without touching your thermostat or adjusting your daily habits?
It sounds too good to be true, doesn't it? But if you're one of the millions of homeowners with invisible gaps in your ductwork, window seals, and doorframes, a significant part of your utility bill could be paying for the conditioned air leaking out 24/7.
Air sealing helps you get the maximum benefit from your heating and cooling costs, which generally make up the majority of your monthly expenses. While understandably frustrating, efficiency doesn't start and stop with your HVAC system as your home is regularly losing energy through gaps in ductwork, around windows and doorframes, and spaces in construction. HVAC technicians solve this problem through the process of air sealing, but what does this really involve? It's not a mystery however, it may be confusing to understand because of the many types of breaches involved. It's simply the best way to get the most out of your heating and cooling system.
Safely Sealing Ductwork
One of the first places to look for any heating or cooling leaks around your home is by inspecting the ductwork running from your indoor equipment to registers placed around your home. Over time, as your property shifts and settles, duct connections become loose. Homeowners often head straight to these areas first, because they're easy enough to detect, but this is actually one of the areas where hiring a technician makes the most sense. Ductwork is sharp and almost always located above your head, increasing the risk of injury or further damage. This nuisance makes it time to rely on someone with experience to see the job done safely and correctly. Our technicians have years of experience with air sealing, and will ensure your ducts are in optimum shape.
Sealing Gaps in Outer Walls
Gaps can occur as a result of many different things. One of the main reasons may be how your home was constructed. As it turns out, a surprising number of contractors often skimp on little tasks like sealing outer framework, either to save time or simply as a result from a forgetful moment. Even when homes have been constructed perfectly, there are still gaps between pieces where air can leak through. As homes age and settle, pieces shrink and shift which causes gaps to worsen or more gaps to form. There may be gaps that are seriously impacting your home's energy efficiency.
Sealing Doors and Windows
People often replace doors and windows without realizing how much energy is lost just around their frames. You don't have to always replace the door or window; you can always correct some energy loss by fixing gaps around the frame to keep the air in and the elements out.
Sealing doesn't have to be high tech or involve a big investment, though finding leaks is generally a different story. With a home energy evaluation, our technicians will utilize infrared technology, smoke sticks, and blower doors to locate all the areas that need attention. Chances are you don't have ready access to these tools, let alone the training needed to use them correctly.
Ask GSM Services about sealing up your heating and cooling system today. You'll be surprised how affordable and effective the fixes can be.