How does your commercial heating system perform on the job?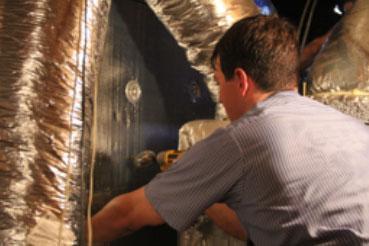 One of the easiest ways to increase productivity is by supplying adequate commercial heating for your workers and clientele. That's not always easy depending upon the industry you're working in. For those in certain lines of business, heat creates its own problems. Still, it's important to do what you can to keep your workers comfortable. Here are three ways you can get the most from the commercial heating you provide:
1. For leasers, written requests are key.
Inc Magazine highlights one precarious issue when it comes to commercial heating: leasing. Most landlords are not only responsible for fixing HVAC concerns, many times, they're the only people with the authority to schedule work orders.
If you're leasing your business space, encourage your landlord early on to have a competent company perform routine maintenance. Deliver this request in writing and offer the contact information for at least one trustworthy company. Likewise, any complaints about non-working equipment should be delivered in writing ASAP.
2. Keep the air moist.
Anyone who's lived through a summer in Gastonia understands that humidity intensifies the effects of heat. This is true when heating property too, although to a lesser degree. Too much moisture will introduce mold and mildew problems. Just the right amount, though will prevent damage and illness encouraged by dry indoor air, as well as making the temperature seem higher.
3. Run your fans backwards.
On every ceiling fan, there's a switch near the blade motor that changes movement to a clockwise direction. During the winter, running your fan in the opposite direction will drive rising warm air back toward the floor.
For these and other tips for maximizing commercial heating investments, contact a trustworthy HVAC company today. Keep your team productive and make every dollar count with a visit from GSM Services.