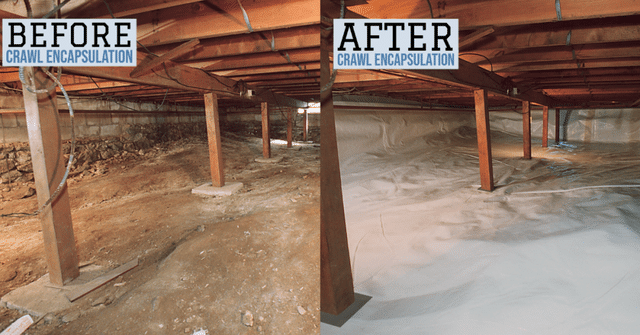 Benefits Of Crawl Space Encapsulations
What are the benefits of a crawlspace encapsulation?
Improves the air quality in your home
Increases the energy efficiency of your home.
Increases comfort in your home - helps with hot/cold rooms.
Helps to create an inhospitable area for pests and termites.
Helps to reduce odors in your home
Helps to avoid fungi, mold, and structural damage.
We provide crawl space encapsulation services in the Charlotte, NC area.
Many homeowners consistently struggle with the amount of moisture that is in their home's crawl space. As for others, they may be choosing to avoid going into their crawl space all together, thus not realizing the damage that may be occurring over time.
Moisture from your crawl space will seep into the home, causing costly issues such as: floor deterioration, mold growth, musty odors, condensation on the windows and walls, and wet insulation. Since the majority of most home's crawl spaces are vented, crawl spaces are also prone to pests such as bugs, insects, termites.
We offer FREE home energy audits & FREE home crawl space inspections. We will check humidity levels in the crawl space and home, look for any mold or growth, inspect your home's insulation, duct work, check for air leakage and more! We will take pictures of concerns and offer a free, no obligation quote to fix any issues. We can provide you different solutions to create a healthy, comfortable, and safe environment under and inside your home. Schedule your Free Inspection today.