A Guide to Heating & Cooling System Costs
How much does a new heating and cooling system cost?
This is one of the most common questions we get here at GSM Services. We probably receive this question hundreds of times each year, likely within the first few minutes of a conversation. If a customer doesn't ask it directly, they are most likely thinking it.
We understand that of course, price matters (along with many other factors). The investment required can go a long way to determine what type system and options you're able to have in the long run. You need to be able to develop an initial budget and plan for the ownership costs, no matter the system type.
As you might imagine, though, the problem with answering this question is the fact that heating and cooling systems have so many options. Purchasing a new comfort system is much like purchasing a new car or even a home. With so many options available, price ranges can vary drastically. Just as a new vehicle can start around $ 20,000 with a basic package, the same model can quickly increase to $ 40,000 when all the available options are added. The same is true with heating and cooling systems.
Considering the average American sells or trades in their vehicle within the first 5 years of purchase, why do so many people elect to get so many upgrades? The answer is because most people understand the importance of getting what they want the first time as to not have any regrets down the road. Because most Americans spend over 30 minutes a day in their vehicles, they want to make sure their vehicle provides them with comfort, quality, longevity, and ease of use.
The same principles typically apply to most heating and cooling system shoppers.
However, in most homes, only the refrigerator runs more often than the comfort system. You're going to live in your home every day and picking the right comfort system with the right options the first time is critical to ensure maximum comfort & peace of mind with minimum maintenance. Because of this, most shoppers elect to get the heating and cooling system that will make them happiest in the long run.
Unfortunately, some people only focus on the initial price of the system with the goal of finding the cheapest contractor, therefore sacrificing quality, longevity, reliability, noise, overall comfort, warranty, indoor air quality and low-maintenance, which inevitably leads to regret – especially considering that unlike a vehicle, the heating and cooling system cannot be traded in if one is dissatisfied and disenchanted.
Still, I will do my best here to give some realistic price ranges as to what most people will spend. (And remember, these comfort system prices are average. They can vary drastically depending on the product, the region, the company, etc.) Unlike some things, heating and cooling system pricing is not the same as commodity based items such as food and electronics.
How much does a new heating and cooling system cost?
Most heating & cooling systems cost $ 4,000 - $ 12,000, including the basic accessories such as a new thermostat, etc. The initial large range depends on if you are only replacing the heating side of the system versus both the heating & cooling components. The average overall will be in the $ 7,000 - $ 9,000 range when including both. At the same time, with additional options and accessories, a system replacement could run as much as $ 20,000. Other big factors include the size of the home, where is the actual equipment located (attic, crawlspace, mechanical room, etc.), how old the home is, and even what type of fuel the system uses.
Another issue that is not talked about often is the difference in contractors in the HVAC industry. This leads to questions that a consumer should ask to help them decide the type of provider they want to work with and what is most important to them. Ultimately, the contractor is the most important variable, not the brand or type of equipment purchased. What is most important to you? Warranty? How long the company has been in business? How many technicians do they have? Are they available after normal business hours and on weekends? What type of training and certifications to their technicians have? How many systems have they put in? Do you know anyone that has used them? How are their online reviews? Do they perform background checks and drug testing on their team members? Do they show up in uniforms in clearly marked vehicles? Are they involved in the local community? Are you comfortable with the office staff, technicians and sales people? Were they easy to get in touch with? Did they take the time to explain to you what they were doing and did they really look at the existing system and evaluate the home? Was the ductwork evaluated? What type of filtration or air purification system was discussed or reviewed? Do they have proper insurance and licenses? Are they getting a permit to perform the work? These questions could go on and on.
All these questions can be important when evaluating what is best for you personally and your home. We like to compare new systems to good recipes such as apple pie. Most of the time you hear that you want to compare apples to apples but in the contracting world, it's not that easy. A better comparison would be comparing apple pie to apple pie. Some of the ingredients may be the same but the finished product is most likely not the same. This is true when making a decision about having a new comfort system installed. Ultimately, the most important factor is your personal comfort level with the company that is going to install the new system. This is much more important than the brand or type system to be installed.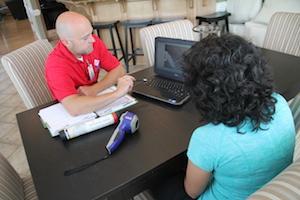 A Basic System Installation might include the following items:
Air Conditioner or Heat Pump
Furnace or Air Handler
Thermostat
Base 1 Year Warranty
Permit/Local Jurisdiction
Refrigerant Piping
Gas Piping (if fuel type heating)
Basic Duct Modifications
Base Manufacturer's Warranty
Electrical Needed for System
Potential System Enhancements & Accessories:
Higher Efficiency Model Air Conditioners
Higher Efficiency Model Heating Systems
Programmable Model Thermostats
Air Purification Systems
Humidification Systems
Extended Warranties
Duct Sealing/Insulating
Low-Level CO Monitors
Complete New Ductwork
Crawlspace Improvements
Water/Humidity Sensors
Zoning Control Systems
Wi-Fi Enabled Thermostats
Upgraded Filtering Systems
Dehumidification Systems
Annual Planned Maintenance
Home Air Sealing/Insulation
Duct/Dryer Vent Cleaning
Fresh Air Ventilation
Attic Improvements
Filter Delivery Service
Home/System Surge Protection
Most basic system installations do not include the items above but all of them can enhance the performance of the system and help maximize the comfort, energy efficiency, convenience, and overall indoor experience within your home.