Ductless Air Conditioner & Mini Split Installation & Repair Experts
One of the benefits of installing a mini split (ductless air conditioner & heating) in your home is that you can control the comfort and temperature in each individual room.
At GSM Services we install and repair all types of mini split systems. We have repaired and installed many mini split systems for homeowners in the local area. Give us a call today or fill out our online "contact us form" to a schedule a FREE, no obligation quote on the installation of a mini split system. We will schedule a free visit with a comfort advisor who will come to your home to discuss what you are looking to achieve and can help create a free custom quote on a mini split system that would provide the best solutions for your needs. We are also an authorized Mitsubishi Mini Split dealer and contractor.
A ductless mini spit system is a great option for homeowners who want the comfort and convenience of central air conditioning in a house or a room that doesn't have a ductwork system.
Many people want to control the temperature in a room that does not have ductwork ran to it, such as a garage, sunroom, or a new addition built onto the house. Instead of having to add more ductwork and having to upgrade your current HVAC system to support the extra load (which can be very costly), it is often much easier and cost efficient to add a ductless mini split system. Ductless mini split systems are much more efficient than your standard air conditioning & heat pump systems. They do not lose conditioned air to leaky duct systems. Mini split systems are controlling the temperature of one room instead of the entire home so it can achieve the desired comfort level much quicker and maintain it for longer.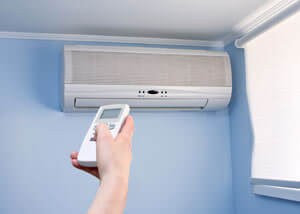 Retrofit solution. The air handler in a ductless heat pump system can be permanently installed on a wall or ceiling. This system provides the convenience and efficiency of central air conditioning without the ductwork system.
How Does a Mini Split System Work?
Today, ductless "mini-split" heat pumps provide homeowners and contractors with a permanent HVAC system option that is well-suited to retrofit applications.
Unlike a conventional forced-air system that relies on a network of ducts and a large, centrally located air handler, a ductless system includes smaller air handlers that are permanently mounted on the wall or ceiling. Each air handler is supplied with electricity, a refrigerant line connected to an outdoor compressor, and a condensate drain line.
The unit typically has remote as well as console controls, and blows conditioned air into the room. Depending on its size, a single exterior compressor unit can supply one or more room-size air handlers, and each air handler can be controlled independently.
Most mini-split systems are designed to allow for heating & cooling.
Get a Free Quote for Mini Split Install Now
We have installed many mini split systems for homeowners all around Charlotte, Gastonia, Lincolnton, Shelby, Clover, Fort Mill, & all the surrounding areas. Give us a call today or fill out our online "contact us form" to schedule a FREE, no obligation quote on the installation of a mini split system.