Testimonials
from customers I've helped!
Steven G

from

GSM Services
Title:
Comfort & Energy Advisor
Hometown:
Bessemer City, NC
Steven's job as a GSM Services Comfort & Energy Advisor is to thoroughly diagnose where your house uses and loses energy, and ways to improve your home comfort. Steven creates solutions for your home so you can start saving money and energy rigth away. Steven is a certified professional through the Building Performance Institute (BPI).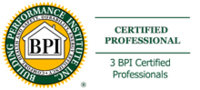 Before joining GSM Services, Steven has worked in the construction and home improvement industry for 12 years. Steven enjoys meeting with homeowners and helping them make their homes heathier and more energy efficient. In his spare time he likes spending time with his son and outdoor activities.
Save
Save
Videos from projects I was involved with: